If you're looking up coconut aminos vs soy sauce to see how their taste, consistency or nutrition compares, this article compares these two umami liquid seasonings side-by-side, as well as 4 more popular soy sauce alternatives.
Why Compare Coconut Aminos vs Soy Sauce?
From brain damage and cancer, to loss of libido and male fertility, there are many health reasons to avoid today's soy products and search for healthy alternatives. These horrible effects on health are for the most part attributed to pasteurized GMO-soy products, but healthy, non-GMO soybean products like traditional soy sauce are nutrient-packed and healthy. But for certain people, even these good soy sauces cause problems.
One issue is that soybeans are goitrogenic. This means they are thyroid suppressing.
The term "goitrogenic" means something that causes "goiter," or swelling of the thyroid gland. Goitrogens accomplish this by interfering with iodine uptake in the thyroid gland.

– Kresser Institute
So for regular consumers of soy, eating iodine-rich foods is one way to combat these thyroid-related issues.
Some of the main foods with iodine include seaweed, raw milk, cheese, eggs, beef liver, and shellfish among others. If you don't have any of these iodine-rich foods as part of your regular diet, it's not a good idea to eat even the healthy soy sauces and products.
The problem with eating too much GOOD soy-sauce
There's another big problem associated with healthy soy foods.
Traditional soy sauce, miso, tempeh and natto are all fermented, unpasteurized and nutrient-packed. For most people, at small amounts, eating these should be perfectly healthy. But for males, they seem to have an effeminizing effect. This makes finding soy sauce alternatives obligatory for men who often consume soy, whether as a cooking ingredient, condiment or dipping sauce.
Here's more on this from Weston A. Price:
Many studies show that soy's estrogenic isoflavones interfere with the production and usage of testosterone in the body.  Some evidence points to soy as a feminizing influence that can lead to gynecomastia (man-breasts). And there's massive evidence of reproductive toxicity.

– Sex and the Soybean: A Cautionary Tale
Phytoestrogens Everywhere!
People today are quitting meat and dairy in place of soy products without knowing the risks. They put GMO soybean ingredients in most commercially baked goods, cereals, breads, cookies, crackers, tuna cans (ever have to sift through tuna cans that have soy in them for some reason, looking for soy-free tuna cans?), meat products, infant formulas, and many other foods you wouldn't think have soy in them.
If you stay away from packaged products and most grocery store inner-isles, and you don't eat out much, avoiding soy becomes much easier. But hiding isn't the answer either, so becoming knowledgeable about all the places this toxin is injected into our food supply is a good idea.
Kidswithallergies.org has a list of names soy proteins go by and use on ingredient labels.
Learn more: Weston A. Price Soy F.A.Q. highlights the dangers of soy products.
Can Coconut Aminos Replace Soy Sauce?
Can a no-soy substitute really give you that exact soy sauce flavor you need?
Worcestershire, Tamari and Liquid Aminos all contain soy.
If you know the difference between good and bad soy sauce, you limit and still enjoy soy sauce without doing damage to yourself or your progeny.
But if you're looking for a zero-soy alternative to soy sauce, Coconut Aminos is the only real non-soy substitute (Shiitake water is not as good as Coconut Aminos).
Coconut liquid aminos tick that important Umami-taste box. It's noticeably less salty, and also noticeably sweeter, but this is coupled with an identical taste to soy sauce, i.e. Umami.
What is Umami?
Coconut aminos and soy sauce both possess a dominant "Umami" taste. 
In 1908, a Japanese chemist named Kikunae Ikeda identified a whole new set of taste buds we didn't know about before. That's what Umami is, a "fifth core taste" after sweet, sour, bitter and salty.
Soy sauce-taste is Umami-taste.
The soy sauce flavor comes from glutamate and is called "umami." It comes from the glutamate content. All soy sauce alternatives should possess this umami taste and aroma because it's a naturally occurring taste that is brought out of specific foods rich with umami, soybeans being amongst the richest in umami.
The 5 Most Popular Soy Sauce Alternatives
If it's a contest, Coconut Aminos is the clear winner, while Braggs Liquid Aminos is not recommended.
Coconut Aminos – fermented, low sodium, gluten-free, soy-free.
Tamari – fermented and gluten-free.
Worcestershire Sauce – fermented and gluten-free.
Shiitake mushroom water – contains the desired Umami flavor, soy-free.
Braggs Liquid Aminos – unfermented and not as innocent as it claims to be.
Shiitake Mushroom water is the only other soy-free substitute on the list. You should make sure to get a quality bottle because if you're not careful you can easily buy an unfermented, pasteurized and GMO-soy containing bottle of Worcestershire or Tamari (sadly these exist) by mistake. So unless you're making it yourself, I'd recommend always buy a good quality brand for any of these sauces.
1. Coconut Aminos: The Best Soy Sauce Replacement
Coconut Aminos are the best soy sauce substitute because you get the full Umami-greatness minus the excessive sodium, gluten or soy. From your basic fried-rice to the wonderful Thai Cashew Chicken, coconut aminos can replace all sweet, dark and light soy sauces. We transitioned over seamlessly, without issues (and Ling is very particular with the final result taste on all her Thai food recipes).
Is umami a real thing? Maybe it's just a thing in Japan?
The taste buds identified are a universal thing to all man. So this Umami is the real thing.
The main umami substances are glutamate, inosinate and guanylate, and it has been scientifically proven that umami is sensed far more strongly when these are present not individually, but when glutamate is combined with inosinate or guanylate. This is referred to as umami synergy.

– Umami Info
Shoyu tastes like Umami. Many other foods, like coconut palm nectar, naturally contain this same flavor. Earlier I linked to this list of Umami rich foods.
How Are Coconut Aminos Made?
Traditional soy sauce is made by brewing soybeans and wheat. In contrast, Coconut aminos are made by fermenting the sap of coconut palm and salt. They collect coconut palm tree sap (which is better than coconut blossom nectar by some accounts), then ferment this sap with sea salt. The final result is a dark sauce that looks and tastes like soy sauce because coconut palm sap and soybeans both happen to contain/are able to produce "Umami" when fermented.
There's Good Coconut Aminos..
You can trust what you get is quality and fermented with Coconut Secret.
And There is Bad Coconut Aminos..
Many coconut aminos are NOT fermented. Not even BRAGGS Coconut Liquid Aminos are fermented. They just add in some ACV at the end.
You have to make sure you get a Coconut Aminos that ferments coconut palm sap in sea salt, and that's it.
Here's a good insight from a reviewer of "Big Tree Farms" Coco Aminos bottle:
I didn't look to see that it is made with nectar from coconut blossoms, rather than by fermenting the sap of the tree. The Coconut Amines made from sap has MUCH reduced sodium, and I think a better flavor without all the additional salt. This product lacks the much punchier umami, which I prefer.

– Reviewer of this bottle I don't recommend (not an affiliate link).
Do Coconut Aminos Taste Like Soy Sauce?
Yes. Soy sauce is known for its Umami flavor, which comes from glutamate. The amino acid content in coconut aminos has glutamate. This is what gives it the same umami flavor that traditional shoyu has. It does not taste like coconut. It tastes like soy sauce.
How To Use Coconut Aminos
As a recipe ingredient, you replace soy sauce at a 1-to-1 ratio with coconut aminos. Popular usages include usage as a:
Dipping sauce
Marinade
Stir fry ingredient (perfect for fried rice)
Soy Sauce vs Coconut Aminos Health Factors
Compared to coconut aminos, soy sauce has more nutrients and purported health benefits. But it also leads in the number of dangerous side effects.
Its isoflavones and antioxidants content mean it may have some health benefits like improving cholesterol. In Japan they say it helps with digestion. It's also said to be an "Anti-allergen," helping to lessen allergic reactions, including anaphylactic shock.
As for any health benefits from coconut aminos, there are no specific health benefits other than it is lower in sodium, so you'd be eating less sodium in your diet if you switched to coconut aminos.
But it's a very healthy condiment in the way that it has no real drawbacks. You can enjoy it and the food it's on without issues as it's a very clean Umami liquid flavoring. 
For those on strict keto diets, you may need to watch the carb content more so than with soy sauce, but it should really be no problem as part of a healthy low-carb diet. The main health benefit is that you're saving yourself from potentially dire consequences if you eat the wrong soy (any GMO soy products), or too much of it.
How Long Does Coconut Aminos Last?
Q: what is the shelf life of the product? A: It is recommended to refrigerate after opening, to slow down fermentation. We have had ours in the fridge since purchase, and it is still in perfect condition, flavor-wise. I hope that helps.

– Answer to shelf life question on a great quality Coconut Aminos bottle.
2. Tamari: a gluten-free soy sauce alternative
Tamari is the soy sauce to get if you are seeking a gluten-free soy sauce made the traditional way, with non-GMO soybeans. It has more sodium and is still made from soybeans.
If you're not trying to abstain from soy altogether, only the gluten in it, then Tamari sauce is a fermented, gluten-free milder version of soy sauce. Unlike regular soy sauce, Tamari is not going to blast you with saltiness, so you get a different experience to eating the higher sodium soy sauces fermented with wheat. Its consistency is also thicker than traditional soy sauce.
Traditional soy sauce is the "Chinese soy sauce. Tamari is the "Japanese soy sauce."
I had no idea about this (nor the concept of "Umami") before researching soy recently.
Does this mean we've been eating sushi wrong this whole time?
And that Tamari is the true soy sauce?
If you only eat soy sauce because of Sushi (me most my life), then this is pretty fascinating information. There are many healthy Tamari sauce brands out there that ferment non-GMO soybeans, so it's worth using it next time you eat sushi.
3. Worcestershire sauce: Contains Umami Taste
Worcestershire sauce is another great Umami sauce that often gets mentioned in shoyu replacement conversations because it's based in soy and does provide Umami flavor. It's more of a distant cousin than a brother to soy sauce, like Tamari is (and it's better than the Frankenstein half-brother, Braggs Liquid Aminos).
The one to buy is the Lea & Perrins The Original Worcestershire Sauce.
Pin
Sodium Content – Worcester v. Tamari v. Coconut Aminos
Per 1 teaspoon or 5 ml of Worcestershire sauce, there are 65 mg of sodium, 1g carbohydrates, 1g sugars.
In comparison, soy and Tamari sauces both have around 340mg of sodium per 1tsp or 5ml.
And coconut aminos has a 100% soy-free 127mg sodium at that same 5ml serving size. 
Worcester sauce is fermented in a vinegar base that has many additional flavorings added to it. These can include tamarind, onion, cloves, anchovies or other fish, garlic, lemons, sugar and more all depending on the maker.
4. Dried Shiitake Mushrooms
How to use dried Shiitake mushroom water to replace soy sauce
Dried Shiitake mushrooms are the desired mushroom for making this "Dashi" soy sauce alternative using the water that rehydrates them.
It's best to use dried Shiitakes. Its Umami aroma increases when dried. As does its nutrient content.
How to make rehydrated Shiitake water soy sauce:
To make this you simply have to rehydrate the Shiitake mushrooms. You boil dried Shiitake mushrooms in water, and that water becomes your soy replacement at a straight 1-to-1 ratio.
In the future we will share our successful or unsuccessful attempts. You can learn more about soaking dried Shiitake mushrooms on Sugimoto.
5. Braggs Liquid Aminos
Marketed as merely a gluten-free, Umami liquid seasoning, Braggs Liquid Aminos tastes more like traditional Asian soy sauce than Worcestershire sauce, but it may come with drawbacks. It's not fermented, but instead goes through a hydrolization process to manufacture a version of the glutamate our bodies naturally produce.
The Argument For Braggs Liquid Aminos
The argument for Braggs Liquid Aminos is that if the Hydrochloric acid used to make it (to mimic our stomach's gastric acid) is 100% pure, then it's no different from what we'd produce in our bodies as predigested, non-GMO soy. And for the neutralization process, that a 100% pure alkaline pH balancer mimics the carbonates naturally produced in our stomachs after a meal to lower acidity, meaning it's the exact same thing that would be going on within our bodies and is 100% safe because of this.
At least with Worcestershire sauce, its fermented, and you get some real nutrition packed into it. 
Braggs Liquid Aminos has 320 milligrams of sodium per teaspoon.
We Avoid Braggs Coconut Aminos Too
Their coconut aminos are not fermented. Instead, they blend in some apple cider vinegar with the coconut tree sap, water and salt. It's better than their Liquid Aminos, but there are also better brands making better, fermented Coconut Aminos.
Coconut Aminos vs. Soy Sauce: Side-By-Side Comparison
I have here with me a bottle of coconut aminos and a bottle of Kikkoman soy sauce, a good brand from Japan.
Bottle of Organic Coconut Aminos
Here's the latest one I've been enjoying.
I'll share the nutrition information and ingredients labels below.
Nutrition facts label: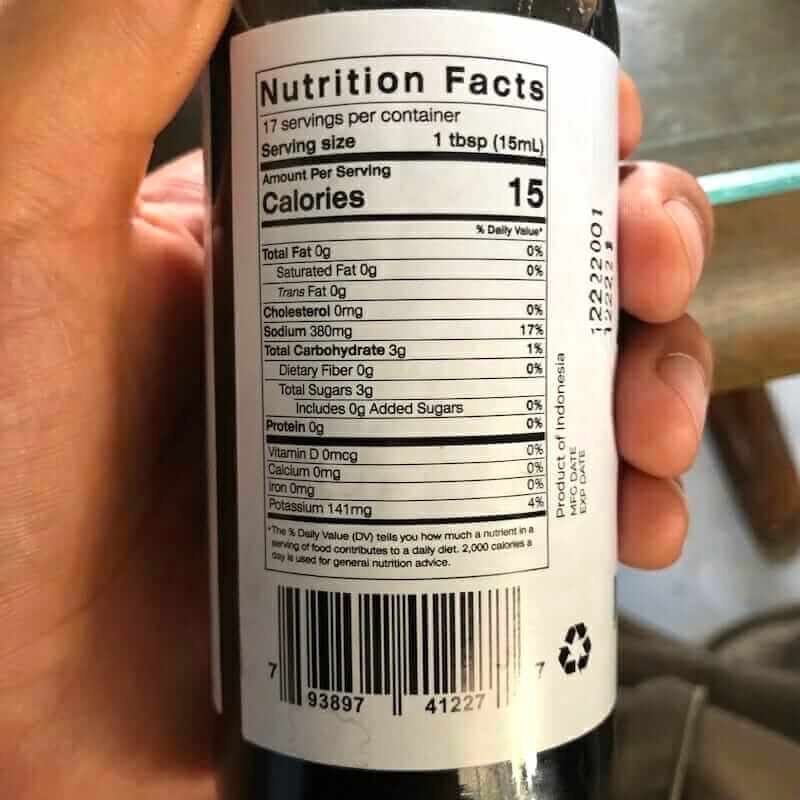 Coconut Aminos ingredients label:
Bottle of Kikkoman Soy Sauce
Below are the ingredients as written on their glass bottle.
And the nutrition facts content also printed onto their bottle.
Recap: Soy Sauce vs. Coconut Aminos
Here's a quick bullet point break down of these health factors for Cocout Aminos vs. Soy Sauce.
Sodium Content
As you can see, coconut aminos are far less salty than traditional soy sauce. If you're on a low sodium diet, or other ways of eating that require you to abstain altogether, such as the kidney disease diet or the DASH diet, Coconut Aminos is your best solution.
Gluten Content
Coconut Aminos is not fermented with wheat and is gluten-free.
Taste
As a recipe ingredient, Coconut Aminos is a perfect replacement. As a dipping sauce, you do notice that it is a little sweeter and less salty. However, because it's so delicious, and because it does have just as strong Umami as soy sauce (minus that super-salty-sting), you end up eating more, and putting it on things you normally wouldn't put soy sauce on. You may end up being a coconut aminos head like me.
The clear winner here when looking at all soy sauce alternatives… in terms of taste, health factors and overall soy sauce replacement qualities, Coconut Aminos is your best, healthy, non-shoyu alternative. 
Next time you make some fried rice or any Thai food recipes, try coconut aminos out. I think you will also see how great it is. Or better yet, you won't notice a difference at all!