Do you enjoy eating cereal and oatmeal? Chances are yes, everyone likes cereal!
Sadly, the fun is over.
There is now something worse than sugar in all the cereals and oatmeals you ate growing up.
Glyphosate in cereal and oatmeal is harming us all.
I say "all" because it's not just in cereal. From Lucky Charms to Cheerios, most all of the non-organic cereals tested contained glyphosate herbicide.
The Glyphosate In Oats Problem
Each year around 250 million pounds of toxic glyphosate weed killer from Bayer-Monsanto are sprayed onto American crops alone. And this is just in the U.S.
Glyphosate is the active ingredient in Roundup, the most popular store-bought herbicide in the U.S., and likely worldwide.
This "systemic herbicide" which plants suck up into all their parts we eat cannot be washed, baked or cooked off.
And if you think you're safe from it because you don't eat vegetables or fruit, well if you're not sourcing clean meats then you can ingest glyphosate from meat and poultry too.
Much of the beef on store shelves today is from cows fattened with a heavily-sprayed "Roundup Ready" corn.
If you're not eating truly organic and grass fed meats, you'll find it hard to avoid glyphosate.
This is the state of things in America and the reason why you must try to grow your own food or eat organic as much as possible.
---
Glyphosate in Cereal & Oats Has Ruined A Once-Honest Breakfast
Is it a coincidence that glyphosate is more often found in children and kid foods as compared to those marketed to adults?
Why does it seem like there is an attack on our young ones?
I mean, it's not like we haven't been targeted before through food.
The once-honest breakfast statement needs to be further evaluated as the true history of corn flakes and John Harvey Kellogg is not so pretty. Whether it was part of some anti "self-pollution" campaign for young men, or cow feed pushed onto the people, the fact is that before these days of the dubious Kellogg and his associates (and before the days of scientific wheat breeding programs), wheat was a nutritious staple in many diets.
This 2019 Environmental Working Group (EWG) article follows up on a previous 2018 study that tested glyphosate within oats-based foods marketed to children. They found 21 major food makers like General Mills continuing to make popular kid cereals contaminated with high amounts of glyphosate-residues.
This image below is from that 2019 EWG commissioned study. It shares the 21 popular food brands and their products with each one's glyphosate levels at parts per billion (ppb).
As you can see, Cheerios were the worst.
Even though these agencies all have their "acceptable number of Glyphosate ppb" benchmarks, the only real acceptable number is 0.
There should be no glyphosate in food.
Especially not in popular children's cereals.
In this other EWG article titled, "10 Food Companies Join EWG Glyphosate Petition," a harrowing fact about Roundup glyphosate is revealed:
Over the past 25 years, the EPA has increased the amounts of glyphosate residue allowed on oats 300-fold. The first increase, to 20 ppm, was granted in response to a 1997 petition from Monsanto, when farmers around the world first began using glyphosate widely as a late-season desiccant. It was increased to the current 30 ppm level in 2008.

– 10 Companies joined the EWG's 2019 Petition to the EPA
---
90% of families have it in their bodies <— INSANE!
AND Children have more weed killer in their bodies than adults.
A 2019 bio-monitoring study commissioned by The Center For Environmental Health (CEH) used an independent lab to study glyphosate levels within parent-child pairs. Nine of the children had higher amounts of glyphosate in them than their parents.
Half had twice the amount of glyphosate in their bodies as compared to their parents.
And one child had almost 100% more.
A new study by Center for Environmental Health (CEH) found over 90% of families tested had glyphosate in their bodies. The study sought to determine whether children are more exposed to Monsanto's toxic weed killer than their parents. The results were unequivocal.

The lab found nine of the children had higher concentrations of the weed killer in their body than their parents. Half of the children had twice the amount of glyphosate in their body as their parents, and one had nearly 100 times more weed killer in their body.

– Center For Environmental Health Study Review
You can learn more about the results of this study on this useful "Glyphosate Factsheet" created by the CEH.
---
Glyphosate Weedkiller Usage Goes Berserk
Farmers and oats brands who look at dollar signs before health use this toxic herbicide as a pre-harvest drying agent. They use this cancer-causing herbicide to dry out plants, so they can harvest them and sell them off to be turned into food faster.
They make sure to soak our foods in glyphosate.
The majority of us are too busy to pay attention, so they go on dumping chemicals into our foods. Because it is a slow death and a slow punishment to our bodies (which are our temples), we seem to ignore it.
Ever wonder why 1 out of 2 people gets cancer now? Autoimmune diseases?
My guess is weedkiller is one factor of many similar unfortunate ones.
But yet it remains in popular store-bought foods and in most the foods in public school lunch menus.
Look at the ingredients of the cereal boxes of today:
I'd like to look at the ingredients list of the same cereal box in the 1950's (if you can find one can you please let me know?).
My guess is that the Cheerios from the past are night and day different. The only thing the new labels are missing are "glyphosate". It should be on there because it's become a main added ingredient.
But what about "Organic" Cheerios?
If any supposed glyphosate-free cereal brand is owned by one of the glyphosate-heavy oats brands, why give them your money at all?
The only companies deserving purchases from us are those without any ties to the toxic food producing companies.
Annie's? Bought out by General Mill's.
Kashi? Owned by Kelloggs.
If these two above provide oats and cereals without glyphosate, you're funding their parent company products that do have the toxic weedkiller smothered wheat products.
Below I list a small number of trusted Roundup-free brands of oats and then provide links to longer lists of a pleasantly large list of truly certified organic brands with clean products.
Ancient Wheat Was Better Than Today's
Ancient wheat varieties like Einkorn, Emmer and Spelt have less anti-nutrients such as gluten or phytic acid than do our modern-day wheat varieties in existence today which are a product of hybrid wheat breeding.
And ancient wheats sure as heck didn't have any glyphosate-residue on them either!
General Consensus On Glyphosate Worldwide:
Of course Bayer-Monsanto say glyphosate is safe, but let's look at a what the other health agencies and government health organizations say about glyphosate's safety:
EPA says it's safe (minimal risks).
WHO says it's "probably carcinogenic" to humans.
California EPA acknowledges that it is known to cause cancer.
European Food Safety Authority (EFSA) says it's unlikely to pose a carcinogenic threat.
Glyphosate In The EU
In Europe, glyphosate is approved for use across the EU until December 15, 2023. EFSA used the European Chemicals Agency (ECHA) to measure glyphosate's risk, and they concluded that it wasn't that bad basically. Here's the quote
In 2022, the European Chemicals Agency (ECHA) carried out a hazard assessment of glyphosate and concluded that it did not meet the scientific criteria to be classified as a carcinogenic, mutagenic or reprotoxic substance.

– EFSA on glyphosate
They are due to make another decision on glyphosate at the EU level in the coming months. Hopefully they will take a cue from some other EU member states who are already starting to ban its use.
Independently, several European countries recently announced future bans or massive restrictions on the use of glyphosate (e.g. Austria, Germany, France)

– Nature.com, Aug 2023, on potential Glyphosate Ban in Europe
I have a brother living in Portugal, and we plan to spend some time with him and elsewhere in the EU in the future (we are dual citizens of USA and EU), so what happens over there in regards to glyphosate usage concerns me as well.
Some Solutions To The Glyphosate In Oats Problem
Be extremely careful about what wheat and oats products you eat.
Choose certified organic AND certified glyphosate-free if possible (organic should be glyphosate-residue free, but that's not always the case).
Wheat's starch breaks down into glucose. If you're doing a Paleo, Keto or Carnivore diet, then you've found the ultimate glyphosate problem solution.
Try not to go to public areas where they use a Roundup weed killer. Go to natural spaces that aren't groomed for perfect looks at your expense.
Only buy glyphosate-residue free certified oats and wheat. View our list of glyphosate-free oatmeal brands and cereals.
Glyphosate Free Oats In 2023: A Positive Trend Begins…
Well it's a wonderful thing to be able to update this post sharing good news on this topic of glyphosates in oats. Findings from a recent 2023 study commissioned by the EWG shares major oatmeals brands as having far less glyphosate in their products as compared to before.
Brands like General Mills, Quaker and Kelloggs in this latest study had some that tested as glyphosate-residue free. I think we need to see more to believe it, but this is quite a contrast from the previous tests in 2018 and 2019 that also came from the EWG.
List Of Glyphosate Free Oatmeal Brands
1. Country Choice Organic (Nature's Path)
To start things off, Nature's Path is a company offering various types of oats without glyphosate. Nature's Path is from Blaine, WA and offers a wide range of oats and cereals, including:
Cereals
Granolas
Oatmeals
Toaster pastries
Waffles
Snacks
These are what look like their three most popular selections of organic glyphosate-free oatmeal; original, brown sugar with maple, and apple cinnamon:
They are a big company with three additional brands under their portfolio after Nature's Path; Envirokidz, Love Crunch and Qi'a.
2. Back Roads Granola
Back Roads Granola is a family bakery from Brattleboro, Vermont.
Along with being Non-GMO Project Verified, Back Roads Granola are certified Glyphosate-Residue Free (Detox Project) and it's nice to see they purposefully do not use any engine lubricant, I mean canola oil, in their granola recipes.
Here is how they break down their own company:
"Peter is master baker and in charge of operations. Virginia is in charge of sales, marketing & all things customer service. Daughter, Coral recently moved back to Vermont from Boston and is heading up the online marketing efforts. Our friend, Barb helps run our office. We answer your phone calls & emails and we hope to personally meet you when we are on the road doing demos and correspond with you through Social Media outlets."

– Back Roads Granola
You think Kelloggs could fake being this homegrown and family oriented, let alone small and trustworthy?
The Back Roads Granola shop features all their vegan, gluten-free, glyphosate-free oats and granola products. They also wholesale.
You have to go for quality when it comes to granola, and Back Roads glyphosate free granola are pure quality.
3. Farm To Table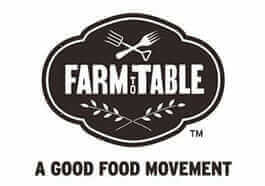 It's refreshing to see company ethics in line with what you want for food you feed yourself and your family.
Farm To Table Foods offer glyphosate-residue free oatmeal.
Farm to Table Foods grains are whole and they put just as much emphasis on taste, so you're not getting spoonfuls of organic oats that taste like cardboard (although that would be 100% better than a tasty mouthful of roundup weed killer oats).
Here's what you can expect from Farm to Table Foods glyphosate-free oatmeal:
Farm to Table Foods Organic Ancient Super Grain Whole Grain & Oatmeal – 3 – 14 oz. bags
INGREDIENTS: Organic oats, organic Kamut khorasan, organic spelt, organic rye, organic hard red wheat and organic flax seeds.
TASTE: Creamy base, nutty top ends, great depth of flavor and superior texture
NUTRITION: 100% organic, Non-GMO, high in natural protein, omega-3s, pre-biotic fiber and antioxidants NO ADDED SUGAR, ever.
CONSCIENTIOUS FARMERS: Grown by farmers who care. Lovingly crafted using 100% organic grains. Part of our mission is to support small scale sustainable agriculture.
VALUE: Under a buck a serving
Farm To Table Foods do not have any glyphosate-residue free certification, but they are certified USDA Organic.
That organic seal means that the domesticated cereal grass (Avena sativa) grown for the oats, will not contain or use glyphosates, insecticides, synthetic fertilizers, desiccants, antibiotics or GMOs for any part of the growing, harvesting, processing or packaging of the oats products.
They stand for integrity.
Farm to Table will not compromise its integrity. In a perfect world, people all over the country would be able to enjoy the bounty of our products. However, if expansion means neglecting our commitment toward the finest ingredients, or that we can't afford to create products that meet big box store pricing strategies, so be it. We won't be there. If necessary, we'll remain a niche product for the select few who insist on top quality ingredients and a gourmet offering.

– from Farm to Table's Our Story page.
But it would be better if they had a glyphosate-residue free certification because USDA Organic brands have tested for glyphosate in the past.
These first three on this list of glyphosate-free oats brands all have "5-Grain" ratings on Cornucopia Institute's Cereal Scorecard List.
So, the first 3 oats brands shared on this list, Nature's Path, Back Roads Granola, and Farm To Table Foods, are all trustworthy products from companies classified as "exceptional" and "exemplary" by the Cornucopia Institute.
4. MUSH
You can find MUSH on Amazon Fresh.
MUSH Oats are Non-GMO Project Verified and also certified Glyphosate-Residue Free by The Detox Project.
MUSH overnight oats are from San Diego. Being southern California born and raised, I had to add them to this list.
Well, the fact that each 6 ounce, 4 inch by 2 inch by 1 1/2 inch package contains certified glyphosate-free overnight oats in it also has something to do with this top Roundup-Free Oatmeal Brands list placement.
If overnight glyphosate-free oats are what you're in search of, MUSH's clean whole rolled oats come in tried and true oatmeal flavors such as Apple Cinnamon, Strawberry and Dark Chocolate.
Here's a quote from the "Ingredients" section of their site.
MUSH Overnight Oats elevates your nutrition to a whole new level. Plant-based, protein rich, high in fiber, gluten free, dairy free, artificial flavor & color free, preservative free, filler free- all in a 6 ounce package.

– MUSH
MUSH Apple & Cinnamon Overnight Oats, 5oz
LIKE OATMEAL. UNLIKE ANY OATMEAL: Instead of cooking oats to make…
LESS INGREDIENTS. MORE NUTRIENTS. BETTER YOU: The less we add, the…
DELICIOUS, GUILT-FREE & CONVENIENT: Breakfast takes time. MUSH gives…
Enjoy MUSH for breakfast, lunch, as a snack, for dessert, or even pre…
WHY PEOPLE LOVE MUSH: We provide a healthy meal that has real, simple…
They should add "glyphosate-free" to their list of featured oats benefits.
More people than they may know are actually looking for this exact thing!
5. Mylk Labs
Much like MUSH Oats above, Mylk Labs makes high quality glyphosate-free instant oatmeal cups.
If Mylk Labs instant oatmeal cups are truly glyphosate-residue free, then they're a great alternative to MUSH with their unique and staple flavors; Coconut Cinnamon, Apple Cinnamon, Blueberry Maple, Strawberry Vanilla, and Roasted Almond & Pink Salt.
Mylk Labs – Roasted Almond Instant Oatmeal Cups – Gluten Free, High…
QUICK & HEALTHY MEAL: Just add water and enjoy in minutes! Our individual…
INGREDIENTS YOU CAN TRUST: Gluten-free, vegan, non-GMO, and kosher
FLAVORFUL WITHOUT ALL THE SUGAR: low, unrefined sugar to prevent a sugar…
FULLER FOR LONGER: High fiber and high protein quick oats keep you full all…
SUSTAINABILITY: Delivering healthy meals through best practices from…
Mylk Labs is refreshingly transparent in the way they showcase their certifications. They are clearly listed on their marketplace listings as well as their website.
Unfortunately, however, they have not secured any type of roundup-free certification yet (Non-GMO Project Verified is not one).
Mylk Labs certifications:
Non-GMO Project Verified (ID# C0478579-NGPBRO-4-V1, NSF International, 2022)
Certified Gluten-Free (ID #77045, GFCO, 2022)
Woman-Owned Certification (#WBE2001335, WBENC, 2022)
Kosher Certified (Orthodox Union, 2022)
I added them to this list after reading this article they published, titled, Why We Only Source Glyphosate Free Oats.
In the year 2023 it's almost necessary to show proof of being glyphosate-free. And if not, then to be certified organic.
Mylk Labs are not certified organic and they don't have the Detox Project's Glyphosate-Residue Free Certification.
But they are adamant about sourcing glyphosate-free oats.
---
Certifications To Look For From Oatmeal Brands
The Detox Project's Glyphosate Residue-Free Certification
This is the main certification to look for at the moment in oats and wheat products.
The Detox Project is a research organization that provides glyphosate free certifications to oats brands that pass their Glyphosate Residue-Free Certification tests.
The brands on their list are all certified glyphosate-free according to their own tests which run through a third party ISO 17025 accredited laboratory.
This certification will help ensure that the oats are completely free of toxic weed killer residue. It helps identify oats brands that are truly organic and free of Roundup.
Non-GMO Project Certification Does Not Equal Glyphosate-Free
This certification is a good complimentary certification to have alongside glyphosate-specific testing certifications like that of The Detox Project's, but it's important to note that this certification is about whether the food is genetically modified or not. Both franken-fruits and non-GMO fruits can be sprayed with weed killer all the same.
Glyphosate Free Oats: A Timeline of Events
In 1974, glyphosate usage began in the U.S. It started with Monsanto's new product, Roundup. Monsanto's scientist created it, it was then patented and introduced it to the U.S. as the latest and greatest herbicide. Their exclusive rights to glyphosate in the U.S. ended in 2000.
In 1996, Roundup Ready crops came into existence when Monsanto developed roundup ready soybeans.
Between 1992 and 2012, it was found by the U.S. Geological Survey's Pesticide National Synthesis Project that 2.6 billion pounds of glyphosate were sprayed across America's agricultural farmlands.
In the year 2012 alone, 280 million pounds of glyphosate were used on U.S. farmlands (source).
In 2015, the cancer arm of the World Health Organization (WHO) called the International Agency for Research on Cancer (IARC) classified glyphosate as "probably carcinogenic to humans."
Right after the WHO's categorization announcement was made public, the EWG along with other companies petitioned the Environmental Protection Agency (EPA) to put in immediate use restrictions on glyphosate in an attempt to ban its widespread use as a desiccant. These petitions were ignored.
In 2017, the EPA determined that glyphosate is "not likely" to cause cancer in humans. But at the same time, California took a step in the right direction by adding glyphosate to their list of chemicals known to cause cancer (proposition 65 list).
Also in 2017, The Detox Project started their Glyphosate Residue-Free Certification on March 19 for food ingredients and products in the United States.
On August 18, 2018 the EWG's first test report was published. They ran glyphosate testing on popular cereals and oats products marketed at children. The first test's report shared alarming levels of glyphosate residues found across most oats products. 43 of the 45 samples they tested had glyphosate.
Almost three-fourths of those samples had glyphosate levels higher than what EWG scientists consider protective of children's health with an adequate margin of safety.

From the EWG review on 2018 tests by Eurofin Analytical Laboratories

Two months later in October of 2018, part two of the glyphosate study report was published. This time the "probably carcinogenic" weed killer was found in ALL samples tested.
In May of 2019 the EWG ran glyphosate testing on various types of popular Cheerios and Nature's Valley bars. All of the 21 products tested had glyphosate in them.
In 2019, the health agency part of the U.S. Department of Health (DHHA) called the Agency for Toxic Substances and Disease Registry (ATSDR) put out a toxicological profile on glyphosate which did a deep dive into the side effects that come from glyphosate exposure.
These included both cancer and non-cancer effects; from non-Hodgkin Lymphoma (NHL) to organ damage and child development. That profile's official name is the Draft Toxicological Profile. That link takes you to the PDF in a new window.
In 2020, the EWG ran testing on hummus and chickpeas. They found glyphosate in more than 90 percent of the non-organic hummus and chickpea samples. But get this, the organic had it too!
EWG also tested 12 samples of organic hummus and six samples of organic chickpeas. Most contained glyphosate, but at much lower levels than their conventional counterparts
In 2021 Bayer reported that all residential lawn and garden glyphosate product sales will cease starting January 2023. This was a forced move after repeated lawsuit losses to victims of glyphosate-residue exposure which suffered and continued to suffer through cancer because of the glyphosate.
In 2022 The Centers for Disease Control and Prevention (CDC) reported 87 percent of children and 81 percent of the U.S. population over 6 years old with exposure to glyphosate residues. They reference this study which analyzed levels of glyphosate in people based off their fasting habits. This helped identify food as the main route of glyphosate intake.
The latest and best addition to this timeline is the EWG's 2023 glyphosate testing report findings.
Popular cereal and granola brands including Gerber, General Mills, Kellogg's and Quaker Oatmeal were tested.
Surprisingly, there was a large reduction of glyphosate levels detected across all the products tested. 3
0% of the products tested still had alarmingly high levels of glyphosate, however, it seems that the advocacy around this topic of completely unnecessary and toxic desiccation of wheat crops with glyphosate seems to be helping. It's great news.
Summary
Monsanto dumps toxic weedkiller on wheat in order to help it dry out faster so they can capitalize on profits.
So what's the solution for the end user… us?
The solution is to stop supporting these faceless corporations who also buy out popular "USDA Organic" brands, i.e. Kashi (Kelloggs) and Annie's (General Mills).
Transparency among food companies is part of the solution as should be supporting small, honest and transparent companies that care more about people than about maximizing profits at the cost of health.
Thanks to the rising awareness among families worldwide who've become aware of this major glyphosate in cereal and oatmeal issue, we now don't have to grow our own wheat as the only way ensure we're not getting poisoned by oats. We now have a very helpful certification in the U.S.
A few years ago it was much more difficult to find trustworthy glyphosate-free oats brands.
And a few years before that it was nearly impossible to know if you're buying oats without glyphosate.
Today, as you can see from this oatmeal without glyphosate list, we are now able to find untainted oats with ease.
This is so because of the organizations out there like The Detox Project making a real positive impact on one of today's massive problems in the U.S. and worldwide.
Although today's wheat may not be as good as truly ancient wheat, there are still good quality oats available to us. Enough so that there is no need to purchase oats dried with Roundup.
Einkorn Wheat is a high quality "ancient wheat" I'd like to see on the Detox Project's list one day.
Jovial Einkorn 100% Organic Einkorn All Purpose Flour -…
ORIGINAL AND PURE – Einkorn is the original wheat and is better tolerated by…
NUTRITIOUS – Einkorn is packed with lutein, tocotrienols, a form of vitamin E, B…
100% ORGANIC & NON-GMO – Einkorn is the only wheat that has never been…
DELICIOUS TASTE – Einkorn has a nutty flavor, silky texture, & buttery yellow…
MADE IN ITALY – We started growing einkorn over a decade ago. To preserve…
Thanks for coming by our blog!
Be sure to come back to check the list as I will update it with more glyphosate free oats brands as they come out.
Resources
The Detox Project's list of certified brands
The Cornucopia Cereal Scorecard – This list is not specifically "glyphosate-residue free", but I am seeing many of the Detox Project certified brands on this list. So it's a good one to cross reference when checking for clean oats or granola to buy.
Last update on 2023-09-28 / Affiliate links / Images from Amazon Product Advertising API