A raised garden bed kit offers a wonderful alternative to building out a planter box by yourself. If you're in a time pinch or just prefer to not take on a new DIY project for any given reason, creating your backyard vegetable garden can still happen right away by using ready-made garden beds.
These raised bed kits reviewed below can be used for anything from growing herbs on a patio garden, to building out a full-on backyard raised garden bed farm.
The many kits available spark new garden design ideas. That's because a raised garden bed kit can come in so many different types, sizes, designs and materials.
You can use quality, 100% natural cedar raised beds.
or you can start playing adult-lego with the HDPE plastic modular raised beds for sale on Amazon.
You can buy raised planter boxes with legs (referred to as "elevated garden beds").
Or you can get galvanized steel ones if metal raised bed materials suit the look you're going for.
All of these raised garden beds kits for sale I review below are top notch quality and have many honest reviews and answered questions on their product listings.
Raised Garden Bed Kit Materials Matter
Here's a great chart made by the Ecology Center website.
We'd been using cement cinder blocks that are said to be able to leach toxins into the soil, so now we plan to replace them and go the cedar raised bed route.
Cement uses fly ash quite often, along with sand and rocks.
The issue with using cement for raised bed building is the fly ash which. Fly ash is a byproduct of coal burning that contains heavy metals and other potentially harmful materials that can leach into your garden bed's soil.
If you're going to use cement for building your raised garden beds, it is recommended to coat the cement with a polymer first or to use a liner over it.
One interesting note from this chart is that bamboo and wood logs are the safest of all the raised garden bed materials. Cedar wood, which I assumed best, does possess low potential of leaching.
The downside of bamboo is its durability. They say it's one of the hardest woods, but the truth is, it is very hard and durable after it's been chemically cured. Natural bamboo can be tough, and there are things you can do to finish it naturally, such as soaking it in water. So if you are in an area where bamboo grows, it's a great way to go. But after the first year or so, you may need to replace parts of it to keep it maintained.
11 Best Raised Garden Kits For Sale & Available Online
Now that you're fully convinced that raised garden beds are the way to go, here are 11 well-reviewed raised garden bed kits.
Each is a worthy solution for your current food-growing needs.
1. Cedar Raised Bed Kit
The best type of raised bed is always going to be the most natural. And that, if you ask me, is this traditional, unfinished, 100% natural cedar wood. Nothing fancy. No self watering capabilities or inner liner. This is straight wood, with slats set up ready for you to slide them into eachother and put your soil inside.
Infinite Cedar Raised Bed Garden Kit 4'x8'x11
Long-lasting raised garden beds made from rot resistant thick cedar boards
Easy Assembly –Assembles in minutes and can be easily disassembled as needed.
Strong, Quality build – 1″ thick premium quality deck boards combined with strong joint design will not bow under the weight of wet soil and will last for years.
11" deep to accommodate large, deep-rooted plants and all natural (no chemical treatment was applied to the wood)
Superior Quality Product Made in the USA, 5 Year Warranty
Pure cedar wood, quick to assemble, and ready to use just minutes after it arrives at your door.
Can you place cedar raised beds on concrete?
Yes, but you'll need landscaper's cloth to prevent losing soil (water will still drain out though)
2. Another cedar gardening bed WITH liner
Second best to the straight cedar would be the 100% cedar with weed liner on the inside.
Some prefer not to have any type of liners, but if you would take the time to place some inner weed liner anyways, then this is definitely the #1 option to go with if you're looking to pick up a quality cedar raised garden bed kit online.
3. Galvanized Raised Garden Bed Kits
They make galvanized steel raised bed kits of different colors and shapes if this is the type you're looking for.
This one I was looking at is made by "Mr. Stacky" and is 12 inches tall which allows for nice breathing room for plant roots.
Where wood has the potential downside to rot (cedar is a good wood that won't easily rot), galvanized steel will not rot, nor will it rust.
This one is powder coated beige on the inside and a nice grey on the outside. Its base metal is steel alloy, something verified with a magnet test by a past customer.
4. HDPE Plastic Raised Bed Kit
You may not have ever considered using plastic for raised bed gardening, but in actuality, the "UV-Protected High-Density Polyethylene" (HDPE) plastic is quite safe. You might already be using those huge 55 gallon HDPE water drums to store water, so why not use it on your garden to make raised beds?
While you can make your own DIY garden beds with wood, and possibly with galvanized steel, the plastic one would be a unique material that is nice to be able to conveniently purchase online. It's rot resistant much like the galvanized.
Sale
Lifetime 60069 Raised Garden Bed Kit, 4 by 4 Feet, Pack of 3
4' x 4' Raised garden kit easily assembles in less than 1 hour
Constructed of UV-Protected High-Density Polyethylene (HDPE) - will not rot, crack or peel; Low maintenance weather-resistant design
Absorbs and retains the needed warmth for root development. Interior Dimensions: 44.5 in. L x 44.5 in. W x 9.0 in. H (103 cm x 103 cm x 22,9 cm)
Stackable design creates 18" high walls to accommodate deep rooted plants
Backed by a 5-year limited manufacturer warranty
This one comes in a 3-pack of 4ft by 4ft quadrants that are 9 inches tall. It's not as tall as the steel one above, but it's a great deal and plenty of height for proper vegetable growing. They say the plastic absorbs heat from the sun to help the roots grow.
5. Elevated Cedar Planter Box
Have a patio garden?
If you're looking for a patio garden box or planter, this elevated garden bed is perfect. It's a vertical farming style garden bed that can easily fit on an apartment patio.
This one allows for 5 trays of plants, herbs or vegetables you can grow. And when you water the top tray, it cascades down to the ones below.
6. Elevated Garden Bed (WITH LEGS)
Here's another in the same arena as the cedar planter box above. But this one is not really a "vertical farming" patio planter box. It's your traditional raised bed with legs.
This one is cedar wood with metal legs. And they also have an identical one but with cedar legs as well.
It can also be placed on a patio, a porch, or anywhere else you want to move it to. It's very mobile.
If you have back issues, or prefer not to be hunched or bent over which most gardening requires, then this is a perfect option for you.
7. Deer Proof Raised Bed Garden Kit
This product does not come with the lumber. This confused me at first, so I will make that fact clear.
You must attain your own lumber to make this raised garden bed kit. However, it does have everything else.
8. Modular Composite Raised Garden Bed (+ water irrigation)
This one is a special one very worth picking up. It's made by a company called "Watex". Its wood composite material makes it termite and rust resistant.
Plus, it includes a "Miro" irrigation system. From all the reviews, it actually spreads across the whole bed and works good. And the setup is easy, not requiring any tools. You just slide the pieces together and it's good to go.
9. 3-Tier Wood Raised Beds
If it works as good as it looks, then this is one very useful raised garden bed kit to pickup.
What I like about it is the 3 tiers naturally create a shade on the tier below it. So your full sun plants could go on top while, depending on how you position it outside, the plants that need less sun can be planted in the same raised garden bed.
10. EZ GRO Raised Garden Bed Kit (A Good Vegepod Alternative)
This EZ GRO raised bed kit is just as good as the Vegepod, but for different reasons.
Its Unique Factor: EZ GRO uses a proprietary material called, AirFlow fabric which lets excess water drain out while providing perfect air flow through the soil that reaches the roots evenly. It's also BPA free and UV resistant.
So if you're to try out a fabric raised garden bed kit, EZ GRO is not too expensive, and many reviews share how they were able to grow and harvest a nice amount while using this fabric gardening box.
4 ft X 8 ft Victory 8 Big Green Grow Your OWN Machine EZ-GRO Raised Bed Garden AeroFlow Proprietary Fabric No Assembly
100% MADE IN USA Instant fabric raised garden bed for all plants Ready to go out of the box; No assembly
Made of a proprietary fabric AeroFlow material, a highly durable, UV resistant, non-woven fabric that provides exceptional air flow throughout the soil and root systems and allows excess moisture to easily drain away.
4' x 8' x 11.5" Rectangle shape; can be placed on any flat surface (grass, patio, concrete, etc.).
Holds 32 cubic feet of soil or other planting/potting mix (soil, plants and seeds not included).
Wide compartment allows for more plant variety and better harvest yield. Made in USA.
11. Vegepod Self Watering Raised Garden Bed System
The Australian designed "Vegepod" makes it easier than ever to grow your own food. I call this one a "system" and not a "kit" because it's on a whole other level than all the raised bed kits in this review article.
The Vegepod is the most amazing gardening tool I've ever seen created. I'm early in my journey of gardening tools, but it's going to be very, very difficult to top how useful and perfect this gardening system is. The specs are described below. Well worth every dollar, and for what you get, I'd say the value is 100% there.
Vegepod - Raised Garden Bed - Self Watering Container Garden Kit with Protective Cover, Easily Elevated to Waist Height, 10 Years Warranty (Large)
RAISED GARDEN BED KIT Vegepod Raised Garden Bed Kits are simply the easiest way to grow your own vegetables. You get the size of a raised garden bed with all the benefits of container gardening. The base contains the soil so neighbouring trees don't steal nutrients.
SELF WATERING: Vegepod is self-watering, meaning it utilises a wicking system where the soil draws the water upwards keeping it moist. Established plants can last weeks without watering and in cooler times your plants may not require water for months at a time.
PROTECTIVE COVER: Each Vegepod comes with a Vegecover which protects the plants from harsh sun and creates a perfect micro-climate, providing a superior growing environment. Also protects the plants from bugs/ pests and animals.
ASSEMBLY & WARRANTY: With the modular design, setup is really easy. Assembles in about 20 minutes. Can be easily raised to 39.4in height with a Vegepod Stand. Comes with a 10 years warranty
A SERIOUS VEGETABLE GARDEN: Large Vegepod is a serious vegetable garden, large enough to grow any vegetables you want. Container Size: 78.7in x 39.4in (2m x 1m)
The Vegepod is the most interesting of the bunch by far. At first you might not realize it, but if you really look at what it actually does, you will be impressed.
The Vegepod goes up off the ground, has its own mist-spray watering system you can just plug into your hose, and that comes with a timer for days when you're just too busy to think about it.
It has a shade cover that also protects against any rodents or pesticides that may come your way through the air (maybe from those "clouds" they make for us).
Yes, the Vegepod is the number 1 item on many's Christmas list this year. If money is not an issue, and you have someone in your life that you want to see start growing food, then this is quite the special gift to give.
The Rock Wall Garden: FREE
Raised bed garden bed kit products are truly endless. But it goes well beyond just ones you can buy online.
God has gifted us with natural modular raised garden bed supplies you can have for free… rocks and stones.
I'm updating this post to share a new rock garden bed we're working on. We have to find a few more rocks first.
Below is a stock image I found online, but it's a good example of a raised rock wall garden bed using flat stones stacked one on top of the other, about a foot high or so.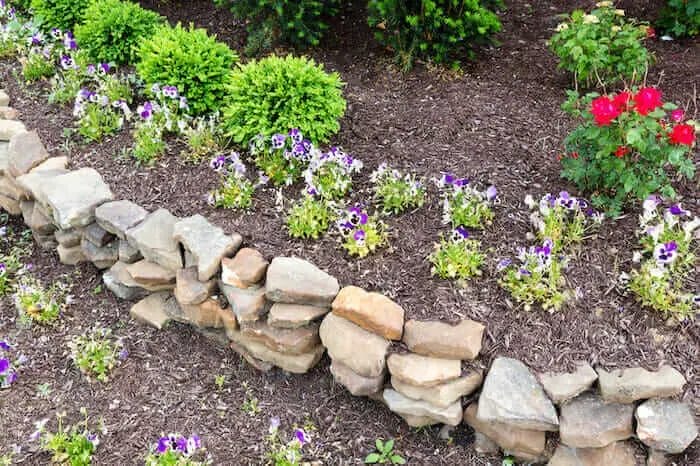 I believe the proper term would be a "rock retaining wall" or a similar term, so you can put that search into Google and view many fantastic rock raised bed examples from around the world.
10 Benefits of Raised Garden Beds
If you're looking for raised garden beds for sale, then you already know the benefits of growing this way. But here's a quick list of raised garden bed benefits in case you're still wondering
Soil easier to maintain (amending is easier too)
Controlling weeds is easier
Roots spread nicely
The drainage
Soil aeration
Easier to do all gardening
No need to deal with tree roots when digging into the Earth
Pest control more manageable
Saves your back!
Mobility factor: You can find ready made raised beds on casters that make moving the garden-bed around easier (i.e. to a heated garage or a more sunlit area during the winter months/frosty mornings)
This video below is of a woman sharing information about her raised garden beds. I've never seen her videos before, but she seems very friendly, so here's good raised bed info from her:
Raised bed vs in-ground vegetable growing
Half the time we prefer to use nothing at all. Actually we start with a temporary raised bed using wooden slabs, and then slide them out a few months later once the soil is settled and weed control around the outside of the bed is in control.
A nice mound of soil and composed flattened out and firmed under your feet can work great. The wooden slabs as a temporary semi raised garden bed isn't even necessary. This permaculture mound of dirt method is just as good and often used for the ease and naturalness of it. 
If you want to attain all the benefits raised garden beds offer, such as mobility, and location of growing (patio or on concrete floor), then buying a raised garden bed kit of good quality is the way to go. 
Both raised garden beds and on-ground gardens are wonderful ways to grow plants, herbs and vegetables of all types.
Questions Around Raised Garden Beds
Best Types Of Wood?
Up until 2003, the most common preservative used for pressure treated wood was chromate copper arsenate (CCA), a compound using arsenic as its primary rot protectant.
According to the Natural Handyman:
New preservatives with either copper or chromium as the primary preservative replaced CCA, and that changed the safety dynamic dramatically.  Unlike arsenic, which is well absorbed into and retained by the body (explaining its toxicity even in long-term, small exposures), these new products (though toxic in large amounts) are not absorbed efficiently by the body so the miniscule exposures from touching or working with these products are safe provided simple exposure precautions are taken, such as hand washing and collection of the sawdust. 

– The Natural Handyman
Why Buy A Raised Garden Bed Kit?
Raised garden beds are one of the best and easiest ways to grow stuff. But they also require you to build, maintain, get a bunch of soil to fill it up, and then possibly move around if you're not getting enough sunlight or you want to save plants from incoming frost.
If you want to save time, and efforts learning about which woods and materials can potentially leach toxins into your soil, then just getting a proven, safe ready to use raised garden bed kit is the way to go.
Do you have any other garden bed ideas?
The most interesting kits of them all are the last two on this list; the EZ GRO which uses a patented fabric they call "AirFlow Fabric," and the Vegepod, which has a patented design equipped with a rodent deterring self-watering and misting system with timer. Advancements in technology can apparently be used for good, too?
Building raised garden beds, or at least having the capability of building them out of anything you have, is a worthy skill that's easy to learn.
Although we have the luxury of getting a cedar wood raised bed (with liner already placed) next day delivered, for some this is no fun.
You will benefit the most by doing things the more DIY route, but if that's something you're not looking to do at the moment, it's good to have high quality garden bed kits for sale and available online.
Whatever your goals are in gardening, you can do it. There are no rules in gardening until you start to make them for yourself by learning the hard way. The same goes with garden beds. One may end up working better for you than the others, so it would be good to build up a few different types of garden beds to see if one produces better food or more of it.
Thank you for visiting Sprouting Fam!
Do you have a preferred type of garden bed?
NEXT:  This next article, Natural Farming 101, introduces Korean Natural Farming or KNF, the best way to grow food. It revolves around fermented liquid fertilizers and the use of local beneficial local microorganisms.
Last update on 2023-09-28 / Affiliate links / Images from Amazon Product Advertising API