This homemade clove and cinnamon mouthwash recipe is quick and easy to make. It offers an effective and healthy mouthwash alternative that you can use in place of antiseptic mouthwashes.
Here we make a simple homemade cinnamon mouthwash recipe with cinnamon sticks, cloves, fresh mint and salt. If you're online searching for DIY natural mouthwash recipes, then chances are you already know about the downsides of powerful antiseptic mouthwashes.
Below I briefly share about the dangers of commercial antiseptic mouthwashes, share step-by-step directions for a great DIY natural mouthwash recipe, and then I share a bit about the recipe's ingredients.
Enjoy!
Antiseptic Mouthwash Linked To Heart Health Risks
Because of heart health risks associated with antiseptic mouthwash, we've just started making our own natural mouthwashes.
Here is Nathan Bryan, Ph.D on heart health risks associated with antiseptic mouthwash use:
"Poor oral hygiene, the use of antiseptic mouthwash or antibiotics can kill these commensal bacteria and disrupt nitric oxide production putting patients at risk for CVD.

For example, there is strong data that demonstrates that antiseptic mouthwashes may eliminate "bad breath," but at the same time, they raise a significant risk of killing "good", i.e. beneficial, oral bacteria that in turn, raises blood pressure.

The rise, as much as 26 mm Hg, causes essential hypertension in healthy individuals."

– Nathan Bryan, Ph.D
Step-By-Step Clove & Cinnamon DIY Mouthwash Recipe Directions
This Clove and Cinnamon mouthwash is the first of the handful of natural mouthwash recipes we've been trying out. It's extremely easy and fast to make.
You have to boil the ingredients for 20 minutes.
Other than that, just let it cool down a bit and it's ready to bottle up and keep in your bathroom for daily usage.
Homemade Cinnamon Mouthwash Recipe (Plus Cloves, Salt & Fresh Mint)
This homemade clove and cinnamon mouthwash recipe is quick and easy to make. It offers an effective and healthy mouthwash alternative that you can use in place of antiseptic mouthwashes.
Equipment
1 steel pot

for boiling water
Ingredients  
10

g

Cinnamon sticks

Cinnamon sticks, not powder

2

tbsp

Cloves

Dried whole cloves, not powder

2

tbsp

Sea salt

Any sea salt (we use Himalayan)

1,000

ml

Water

Drinking water (non-tap preferred)
Instructions 
Boil the salt, cinnamon sticks and clove together for 20 minutes.

Lower heat so the boil almost stops, add in fresh mint leaves, then turn off heat and cover the pot.

Let sit covered with heat turned off for 5 minutes
Video
Notes
DIY Cinnamon & Clove Mouthwash Recipe Summarized
Boil the cinnamon sticks, cloves and salt together for 20 minutes. Finish with the fresh mint and then the heat off. Cover the pot for 5 minutes, then it's finished and ready to pour into your jar or container.
We poured this recipe's finished cinnamon mouthwash into a cup so you can see what it looks like. But normally I'd pour it into a large glass jar with lid, such as a finished jar of olives.
Does it have to be refrigerated?
It can be, but this does not have to be refrigerated. We keep a glass jar in each bathroom. 
How long does it last at room temperature?
It sits fine in room temp for at least a month. At the time of this recipe we were in Oaxaca, Mexico. In Huatulco's heat. Our bathrooms never felt AC, yet the mouthwash never went bad.
We go through it pretty fast, so its absolute shelf-life is something I can't comment on. But ours is great for up to the month's worth of time that we normally use it for until it's finished. 
About The D.I.Y. Clove & Cinnamon Mouthwash Recipe Ingredients
We'll wrap up this post with a closeup image of the ingredients used in this mouthwash recipe.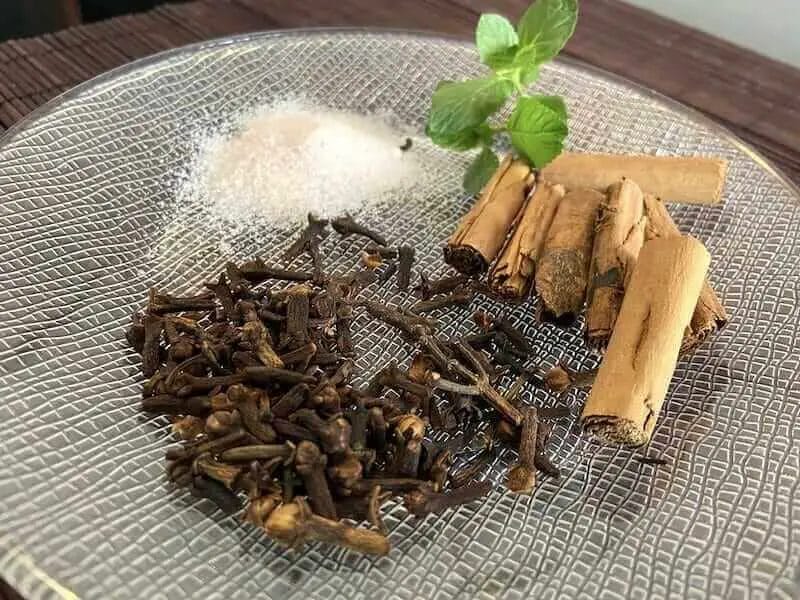 Is Cinnamon Good For Oral Hygiene?
Cinnamon is known as a "spice".
When the inner bark strips of the Cinnamomum tree are dried out, they coil into rolls which we know as cinnamon sticks. 
So, why Cinnamon for mouthwash recipes?
The following quote should answer this question. Featured on a PubMed central is a Review titled, "Effects of Cinnamon (Cinnamomum spp.) in Dentistry: A Review". Here's the quote from this review:
"Cinnamon EO, cinnamon extracts, and pure compounds show significant antimicrobial activities against oral pathogens and could be beneficial in caries and periodontal disease prevention, endodontics, and candidiasis treatment."

– PubMed Central
What About Cloves? Why Use Them For A Mouthwash?
Quick Clove History: Cloves are an extremely popular spice are said to originate from the "Spice Islands" near China. After their discovery they made their way through the rest of Asia and into Europe and the west. Just like with cinnamon, they're ground or used whole for a variety of uses.
Mostly well known for adding unique flavor to meals, they're also used for oral care herbal recipes such as with this homemade clove and cinnamon mouthwash recipe.
On an article by a Texas-based Dental Group titled, "6 Essential Oils For Healthy Gums & Teeth, they list both Cinnamon and Clove on their short list of medicinal herbs good for oral health.
Clove is especially essential for oral health. Clinical research indicates that clove oil can relieve tooth pain and bad breath, as well as help reduce gum disease! Clove oil also has the natural ability to restrict the development of bacteria and can help fight mouth and throat infections.

– Dental Group Of Amarillo
As you can see, these two ingredients are ideal for oral care products.
And these are just two of many potential mouthwash ingredients!
Final Thoughts
In this DIY mouthwash recipe post we shared why we no longer use antiseptic mouthwashes, and instead choose natural oral care solutions like this easy DIY cinnamon and clove mouthwash.
This mouthwash is not too minty though. It's salty and earthy. So if brown, semi-salty herbal water throws you off as a mouthwash, you may prefer one that resembles more closely the antiseptic mouthwashes you'd grown accustomed to.
We hope to explore and experiment with new versions of this one as well as other variations using clove, cinnamon and other medicinal herbs for oral health. Perhaps we can get one that is powerfully minty while still being 100% natural and harmless.
We'll update this post with links to future natural mouthwash recipes as we make them.
Thanks for coming by the Sprouting Fam blog!
Let us know if you have any questions on this Cinnamon Mouthwash Recipe!