A pleasant scent from herbs that smell good can make a big difference in the atmosphere of your home or any indoor space you're in.
Nice scents from herbs can instantly evoke feelings of calm and relaxation, or they can remind you of a good memory or experience.
The opposite of this is also true.
Walking into a stale smelling room or worse, instantly puts you in a non-relaxed, uneasy state of mind. From there it's up to you to accept it and get used to it or get out of there which is what a normal natural reaction would be.
There are a number of ways to freshen the air in your home without resorting to artificial chemicals. Herbs provide some of the very best solutions.
Why use a toxic air freshener when you can use fresh herbs to perk up your space?
Fake scent sprays and Glade-like products often contain harmful chemicals like phthalates and dichlorobenzene (some call these forever-chemicals because of how these leach onto you for seemingly forever).
Air quality is an important factor in your home's environment.
Bad smells can give you a headache and make you uncomfortable.
And pollutants can cause allergies, headaches, and other health problems.
Indoor air is bad enough.
But indoor air that smells bad too?
This article does not go into air purifying plants, but growing these herbs indoors could add some purification on top of getting your rooms smelling good again.
All we're shooting for is a nice smell or a non-bad smelling room using herbs, fresh or dried or otherwise.
---
---
---
List Of 11 Herbs That Smell Good (Perfect Aromatherapy Herbs)
The following aromatic herb plants can freshen up a living space on their own.
They can also be mixed and matched to your preference.
1. Artemisia (wormwood)
Many's go-to herb for aroma, Artemisia is an easy growing plant with an addictive smell.
They provide one of the most unique and welcoming fragrances to have in any room.
Artemisia is a genus of herb plants with 200 to 400 species that have common names you would be more familiar with, such as mugwort, sagebrush and wormwood.
Because it's referred to as Sagebrush and even Sage, it's easy to confuse it with Salvia sage herbs from the Lamiaceae family.
Artemisia is a different plant genus than any of the sages you may be familiar with such as white sage or even Rosemary which is one of these other Lamiaceae sages (Salvia rosmarinus).
Artemisia comprises hardy herbaceous plants and shrubs, which are known for the powerful chemical consituents in their essential oils.
And for wormwood's history:
The genus was erected by Carl Linnaeus in 1753. The name Artemisia derives from the Greek goddess Artemis (Roman Diana), the namesake of Greek Queens Artemisia I and II. A more specific reference may be to Artemisia II of Caria, a botanist and medical researcher (also a queen and naval commander) who died in 350 BC.
Artemisia plants like wormwood have been used for millenniums in Indian and Chinese medicine. Today, they are well-known for their strong aroma and bitter taste (due to their "terpenoids" and "sesquiterpene lactones").
For the tobacco or spliff smokers, a quick rub of this herb neutralizes the bad smell on your fingers and lips quite effectively.
It's also interesting to note that this herb is being touted as an organic covid relief and preventative. Mainstream science is shooting it down in several ways, which tells me it's likely a good herb for any of the coronaviruses, not just the boogieman version that they're using to push whatever worldwide agenda was already in place. (source)
Artemisia provides one of the most unique and welcoming fragrances to have in any room.
Below we share ways to extract its fragrance to benefit any room in your home or business.
---
2. Mint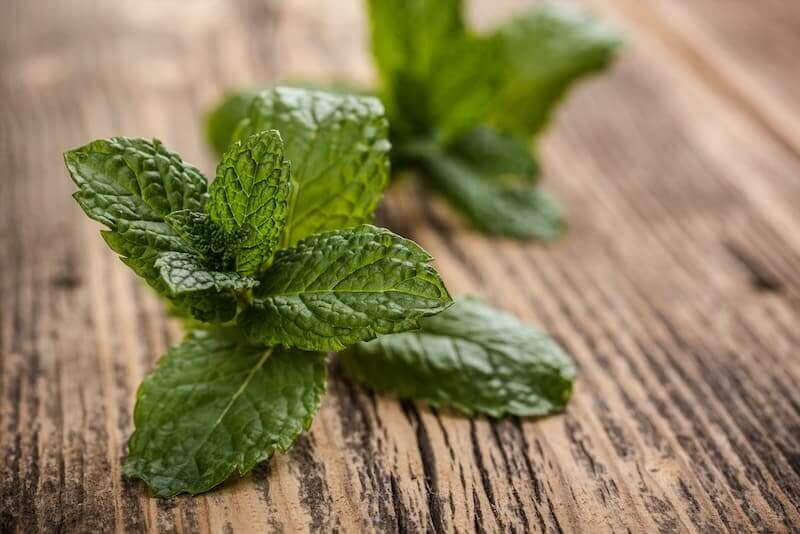 When you think of mint, it is the Menthol content that you think of and that gives it its signature minty scent, taste and sensation.
The name "mint" comes from Greek "mintha" and is best named "Mentha" today. It is a genus of plants from the "Lamiaceae" family. They say around 13 to 24 species of this herb exist. And from these, natural hybridizations create these many variations. (source)
Menthol's aroma isn't everyone's cup of tea, but there are many mint herb variations. Some are more often used for culinary purposes. Others more for their aromatic properties.
So one of them is bound to be perfect for a DIY natural air freshener.
Best mint herb types for indoor air fresheners
Peppermint (cross between watermint and spearmint)
Spearmint
Pennyroyal (similar to spearmint scent)
Chocolate Mint
Citrus Mint
Ginger Mint
Apple Mint
Pineapple Mint
Lavendar Mint
Spearmint
Banana Mint
Corsican Mint
Egyptian Mint
Lemon Balm
Mint plants are easy to grow.
Once you attain the one you like, one plant can give you endless supply of mint leaves.
So if you're chasing an herb that smells good to help out an indoor space, it's good to know you can get a lot of mint herb leaves from a single plant that can be grown in or outdoors.
This video shares how to get even more smell out of mint's leaves:
What does mint smell like?
The Perfume Society describes mint's scent as:
Highly aromatic, merely brushing against the dark green leaves releases the potent scent, all varieties of the plant have some common characteristics – mostly perennial, mint simply adores to be near water, pools and in partial shade.
---
3. Lemon balm (Melissa officinalis)
From the above Mint plant family, but deserves its own list placement.
---
4. Rosemary
Another mint family member, Rosemary can easily be #1 on this list.
Whether you already recognize it or not, chances are you also love the smell of Rosemary.
Rosemary provides proven cognitive benefits.
This study concluded that "compounds absorbed from rosemary aroma affect cognition and subjective state independently through different neurochemical pathways."
Rosemary's aroma improved their mental concentration, alertness and memory, as well as their mood with stress and anxiety relief.
Rosemary is most popularly known for its culinary use. It's great with any type of meat, poultry or fish, as well as with vegetables, mushrooms, potatoes and more.
It is worth noting that you should not ingest its essential oil.
---
5. Anise Hyssop (Agastache foeniculum)
If you like licorice, then you will like the aromatic leaves of Anise Hyssop.
Wisconsin Horticulture has a great page on Anise Hyssop and some popular variations of it.
---
6. Thyme
---
7. Lavender
---
8. Sage (Salvia officinalis)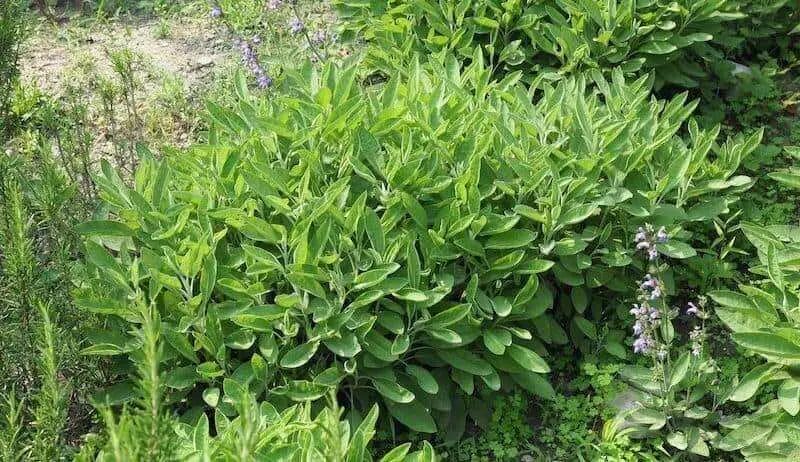 ---
9. Chamomile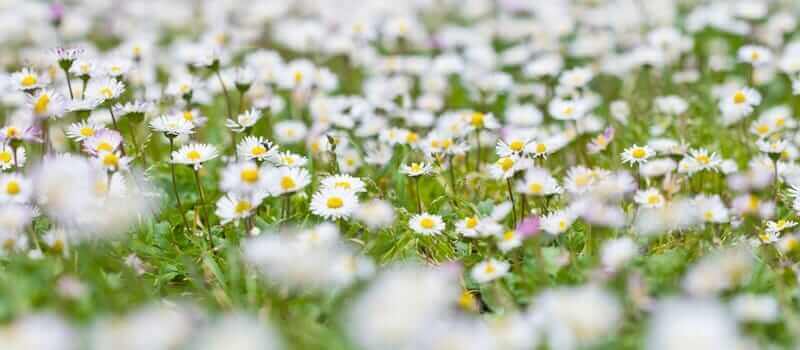 You know its usage as a sleep aid when ingested as tea.
But did you know it also works great via aromatherapy?
---
10. Basil
Yes its use surpasses that of basil pesto or Margarita pizza. Sweet Thai Basil is used on a delicious pad krapow recipe.
But this and the many other Basil variations are a prized aroma great for indoor natural air refreshing usage as well.
---
11. Oregano
Any easy to grow herb with small leaves that pack a powerful scent.
---
More great smelling plants to use with aromatherapy include:
Frankincense
Myrrh
Cedar
Lemongrass
Vetiver grass
Eucalyptus
Fennel
Dill
Coriander
Douglas Fir
Bergamot
---
---
5 Ways To Extract The Fragrance From Good Smelling Herbs
The most common ingredients needed for most natural air fresheners are water, baking soda, and essential oils from any of these herbs.
It's good to know how to do it without baking soda and essential oils too, so below I share ways to do that, which can be used for all the above herbs that smell good.
1. Enfleurage The Herb Plant
One of the oldest ways to extrant fragrance from flowers, and plants such as these herbs, too.
Enfleurage is a process that uses odorless fats that are solid at room temperature to capture the fragrant compounds exuded by plants. (source)
It's a French word. "Fleur" comes from the Old French word, flor. Spanish today uses that word still for Flower. But these all derive from Latin's "flōrem." (source)
This video below shares more about enfleurage-ing, and how to do it.
How To Enfleurage
2. Crush Fresh Herbs
This ones as simple as crushing fresh herbs to release their natural scents.
3. Burn Herbs That Smell Good
What herbs smell good when burned?
Sage, Myrrh, Lavender, Juniper, Frankincense, and Sweetgrass are some good herbs to burn for their aroma.
4. Dry Herbs For Potpourri & Herbal Satchets
Learning Herbs in their article here nails the step by step directions for drying herbs and making potpourri and herbal satchets.
These are a great way to improve a room's smell naturally.
We'll have to update this article with how ours turned out once we do it as described in that article.
Let us know if you have good potpourri methods too.
5. Simmer Herbs In Hot Water
Simple enough.
Start boiling water and then add herbs to it.
Herbal saunas are amazing.
BONUS: Grow A Scented Herb Garden (an indoor potted one)
All it takes is a few rubs of an aromatic herb to release its scent.
You can easily pot most of these herbs inside any room that gets some sunlight.
And then you'll also be getting the benefits of air purifying plants. This article I just linked goes over the top air purifying plants, but what I found out was that all plants provide a bit of air purification.
Including these great smelling herbs.
---
---
Real vs Fake Scents:
Concocting "nice scents" with use of fake chemical sprays and aerosols can make any bad smelling room problem worse.
It's not the same thing as a true essential oil or a full spectrum, plant-derived scent.
A clinical study on menthol showed this:
L-menthol has a specific pharmacological action on nasal sensory nerve endings which is not related to its peppermint smell.
They isolated the peppermint scent and found out it's more than just the scent-alone that provides mint's aromatic health benefits (which include improved nasal sensation of airflow and effective daytime sleepiness combat).
So the last thing you want to do is spray your room with Glade or one of those plug-in scent things.
Those of us who avoid these devices like the plague ( a real one… ) would react to them the same way as if it was a dirty public restroom.
Aromatherapy technically is the use of plant oils (such as essential oils) for inhalation or massage, but there are different ways to get the benefits of aromatherapy, such as smelling the aromatic herb plants themselves.
The broad definition of aromatherapy is "the use of aroma to enhance a feeling of well-being". (source)
The Websters 1828 definition of aroma refers to plant fragrance specifically.
AR'OMA, noun [Gr.] The quality of plants which constitutes their fragrance, which is perceived by an agreeable smell, or a warm spicy taste.
---
The Benefits Of Aromatherapy
Aromatherapy is another way to improve your mood and mental state by using everyday herbs that smell good and that you can grow at home to make your own essential oils or extract their fragrance out of a number of ways possible.
Aromas and fragrances have been widely used in our everyday lives as a medicine since the beginning of our recorded history. The clinical studies on the benefits of aromas is limited, but as far as history goes the use of aromatic oils has been documented as far back as what we call 4,500 BC in Ancient Egypt. (source)
Today people find that the use of aromas is an effective way to manage their mood. Aromatherapy has been found to be useful for people with anxiety disorders, chronic pain, sleep disorders, and more.
Aroma therapy health benefits according to the Mayoclinic:
Relief from anxiety & depression
Improved quality of life, particularly for people with chronic health conditions
Improved sleep
Aromatherapy with lavender oil may help:
Reduce pain for knee osteoarthritis
Improved quality of life for those with dementia
Reduced pain for those with kidney stones
Now you know how to freshen up any stale smelling room and many herbs that smell good to do it with!
---
This herbs that smell good article is designed to give some ideas on how to spruce up your room's scent naturally. If you'd like you can view our article on the top air purifying plants that shares all about plants that purify the air.
As well as our indoor air pollution guide that has useful information about airborne toxins lurking around indoors that you may or may not have already known about. Plus solutions on how to improve the air.
Thanks for coming by our blog!
---
Next Up: 10 Natural Mold Killers That Work