A Roselle Juice Recipe that makes the drink as well as the jam (also called Hibiscus tea, Sorrel Juice or Rosella tea)

This Roselle juice recipe is made using fresh Roselle plant flowers (calyx).
It can be made both with fresh flowers or from dried calyces as well.
Unless you're making Thai tea or a Chai, tea is generally extremely simple to make. Rosella tea is no different.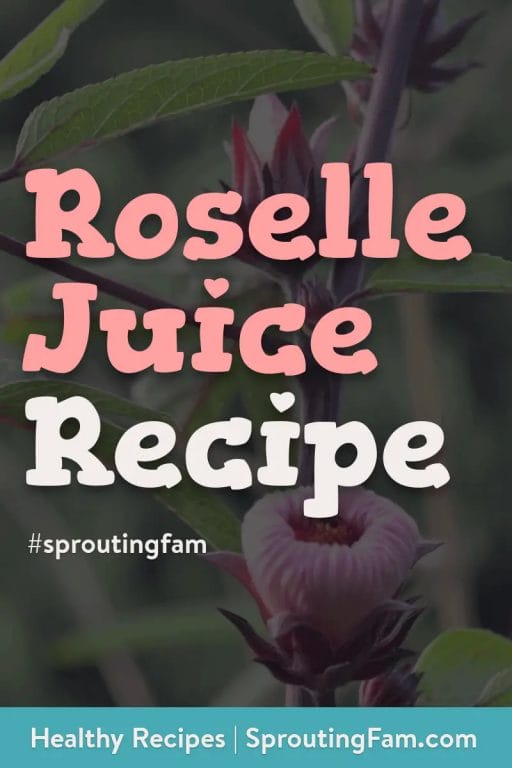 What is the difference between Roselle Tea and Hibiscus Tea?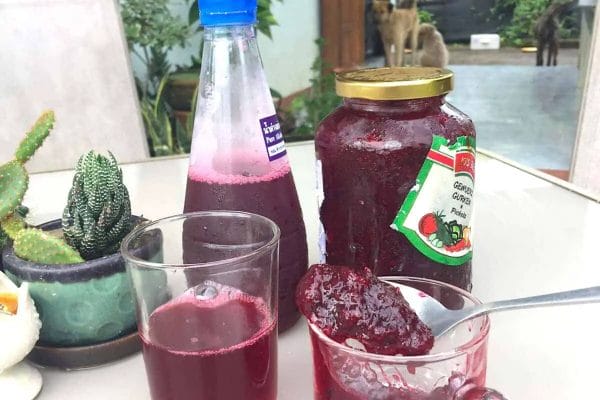 Originally when creating this recipe I though that Roselle plant's proper name was Hibiscus. But I found out that this "hibiscus tea" is more accurately called "Roselle tea".
Roselle tea or Roselle juice is not Hibiscus Tea. It is made from flowers in the Hibiscus genus.
When looking up more information about Hibiscus Tea, I found that a different type of Hibiscus tea comes from Hibiscus flowers that look like this:
Our Roselle Juice Recipe here does not use flowers that look like this picture with the hummingbird and the red Hibiscus flowers. The reason for my confusion is that Hibiscus is a genus of flowering plants with hundreds of different species.
The differences are summed up nicely here by Garden Lovers Club:
The confusion in common names and scientific classification often causes issues with large plant groups like hibiscus. In this case, all true roselle plants—which might be known locally as rosella, red sorrel, Florida cranberry, or Jamaica sorrel—are hibiscus plants, but not all hibiscus plants are roselle.

– Garden Lovers Club
Roselle plant is just one of the hundreds of species variations.
When fully bloomed, the Roselle variety of the Hibiscus flower (this recipe) looks like this: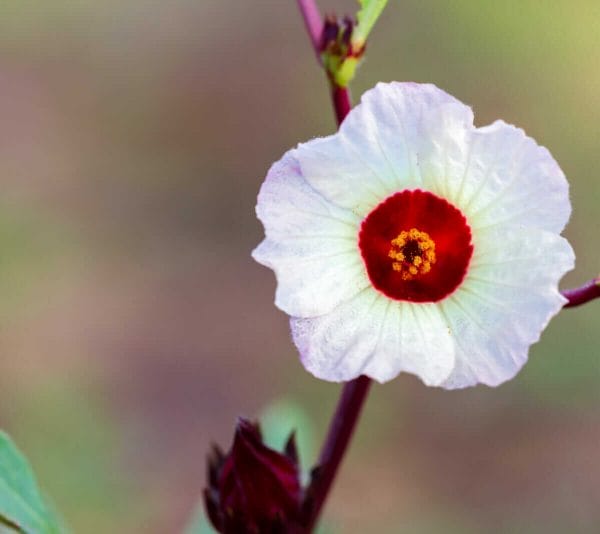 Roselle juice comes from the calyxes harvested before they get to this bloom point. And some are harvested without a Hibiscus flower ever blooming.
So that clears the Hibiscus vs Roselle tea confusion.
Next is the proper naming of the Roselle tea itself.
It has many names depending on what country you're in.
The Many Popular Names Of Roselle Juice
The Roselle plant has several different names. It grows along the same latitude across the world, native to tropical and subtropical regions, and naturally each country has its own name for it.
This recipe's particular species of Hibiscus (Roselle Flower) comes from the hibiscus sabdariffa species. The hibiscus sabdariffa species is said to be native to West Africa (but this is not certain). When the sabdiriffa species (this recipe!) is infused in hot water, the result is known as "carcade."
In Mexico it's known as Agua De Jamaica or Jugo De Jamaica (J sounds like an H). 
In other places like the UK it's known as Sorrel Juice.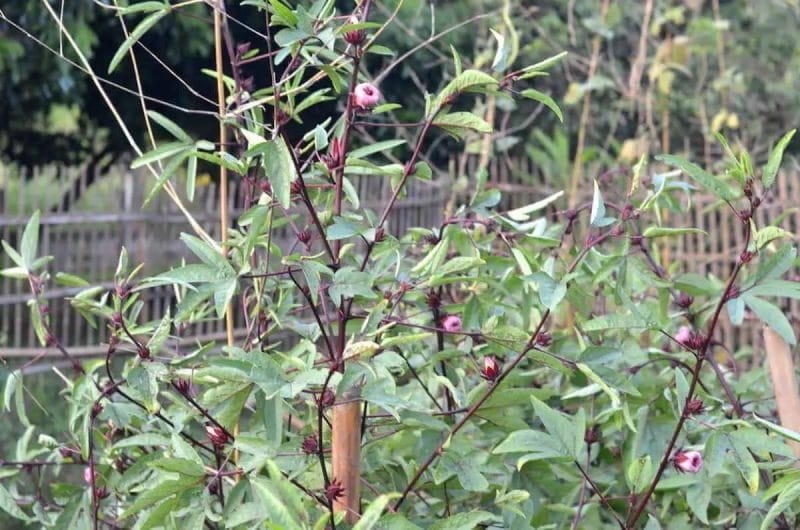 As long as the flower looks like these images, then we're talking about the same plant for this recipe, the Roselle plant.
These same flowers above fully budded and harvested in the pot:
6 Names Used For Roselle Juice Around The World.
Roselle juice or tea seem to be the most common in the U.S.A.
Hibiscus tea
Rosella (Australia)
Flor De Jamica – "Hamaica" (Flower in Latin countries)
Agua De Jamaica – "Hamaica" (the Roselle Juice in Latin countries)
Sorrel plant (in U.K. based Asian or Caribbean stores)
Guddahal Flower & Tea (India)
Roselle Tea Benefits
Other than the fact that it's so easy to make, Roselle is a unique plant with the most notable health benefit being for high blood pressure. Because of this, it's considered a medicinal plant. And it has a unique taste that blends well with many other fruits. So your creation options are endless.
I prefer straight Roselle juice with no added sugar at all, just a bit of salt while boiling. But usually a sweetener at the least is added, like honey, sugar or stevia extract. Other fruits can work great too, like oranges and limes.
---
What Is Roselle Juice Good For? Lots…
There's a 2015 study in the Journal of Hypertension that showed Roselle plant may reduce blood pressure in the amounts of 7.5/3.5 units, systolic/diastolic (source).
Hibiscus tea benefits from the Roselle plant provide far more than the reduction of blood pressure as well. It is a super healthy herbal tea, and while there are no official studies that back up many of its health benefits, from researching this plant's beneficial qualities, I believe it's a great addition to any home remedies list. Here's a quick list of some Hibiscus tea benefits I found online from Healthline and a few other articles (source):
Full of antioxidants
May lower blood fat levels
Liver health (this is one of my favorites!)
May promote weight loss
Potential cancer preventative
Bacteria fighting qualities
This article on Herbpathy boasts a long list of very great health benefits potentially received from Roselle juice/Hibiscus tea. Here are some of them:
Baldness (when applied topically)
Urinary tract infection (UTI)
Menstrual disorders
Diarrhea
Kidney disease
Dandruff (topically)
Cough
High cholesterol
Wounds (topically)
Depression: Roselle has antidepressant properties that help relax nervous tension and provide daily stress and anxiety relief.
Liver diseases
Candidiasis
[alert-note]To learn more about how Roselle juice can help with these things, I'd visit that Herbpathy article.[/alert-note]
Before we get into the Roselle juice recipe, here's Milli, our one-eyed dog that runs with the big boys and is the scrappiest one of the pack. She's an amazing dog that just showed up one day with her face slashed by someone.
How To Make Roselle Juice From Fresh Roselle Calyces (RC) 
Boil fresh or dried flowers for 15 minutes, and you're done.
That's it, recipe finished.
If that's not the easiest recipe we'll ever publish on our blog, then I don't know what will be.
Even though that's all it takes, let's now break this Roselle juice recipe down further, starting from the tall Roselle plants in the garden, to the pitcher on my kitchen table. If you have fresh Roselle flowers, you have the added benefit of being able to make a delicious jam with them. Visit our Roselle Jam recipe.
The proper term for the Roselle flower petals are "calyces." The calyx and the epicalyx are you boil to make the tea.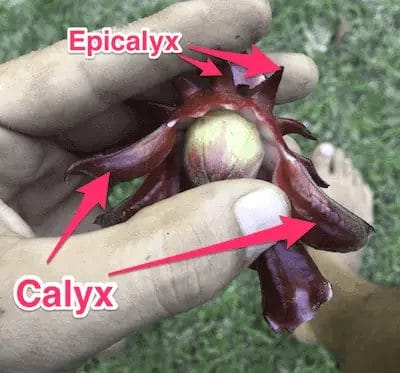 The calyx and epicalyx "petals" on Roselle flowers[/caption]
When removing these calyxes and epicalyces from the flower, you're basically just removing the seed pod.
Removing The Seed Pods (Highly Preferred, But Not 100% Mandatory)
I am not sure what will happen if you do boil the seed pod outside because I've never tried it, I'm sure the lectins added do something, but I'm not sure. One thing to watch out for are the Roselle plant seedpod's minuscule thorns.
Update Re: seed pods – We got a comment down below that mentions boiling the seed pods. Jill commented:
Please stop calling the red fleshy part the flower. The flower bloomed and dropped off before the seedpods formed and the calyxes enlarged. Some recipes I've read say to boil the seedpods in water to get the pectin from them, then use the water to boil the calyxes for jam. It worked for me.
You'll want to wear gloves while removing the seedpod. The seedpods have tiny hair-like spikes that hurt a lot when they stick into your fingers. And they're hard to get out. I haven't found any specific Roselle plant de-seeders, but you can easily make them. The video below shows a man removing Roselle seed pods with a hollow metal tube like this one.
A hardware store should have a right sized metal tube that you could turn into a Roselle plant seedpod remover.
Alternatively, you can just remove the calyces off the Roselle plant and leave the seeds intact on the plant. We just did it and it lets the seeds fully mature on the stem as they would normally.
Step-By-Step Roselle Juice Recipe Directions
Let's finally see how this Roselle Juice/Hibiscus tea is made from the fresh Roselle flowers.
While many online Roselle tea recipes say to steep these calyces in boiling water for like 5 minutes, we find the tea is deeper red and with a stronger taste (not too strong) at around 10 to 15 minutes' time.
Step 1. De-Seed the Roselle flowers (remove pods)
Harvest the flowers then peel the petals (calyces) off.
You use the calyx part of the flower. Not the seed pod.
Once all Roselle flowers are de-seed podded, it's time to clean them off with regular drinking water and get some water boiling in a pot.
Step 2. Wash flower then boil
We did a triple wash before starting the boil.
Once the flower is in the boiling water, add a pinch of salt. This helps balance out the natural bitterness.
Step 3. Add sweetener of choice (or don't)
If you want you can add a sweetener of your towards the end of the boil.
After 10 minutes or so of boiling the Roselle calyces, you end up with a wonderful deep red tea.
Now you have yourself some delicious Roselle Juice!
And that's all there is to this easy herbal tea recipe!
Making Hibiscus Tea From Dried Flowers?
If you don't have fresh flowers, but instead have the dried Hibiscus (Roselle) flower, then you can still make a wonderful, healthy, deep red colored tea, but you can't make the jam. The jam requires the fresh flowers from what I know.
It's the same process with dried Hibiscus. Generally you want to use 1 or 2 tablespoons per cup of water. I prefer using 2 per cup.
With the dried Roselle flowers, you'll want to use around 2 tablespoons of dried Roselle calyces per cup of water.
Print The Roselle Juice Recipe
Looking to print the Roselle Tea recipe? Here's the printable recipe PDF:
Roselle Tea Recipe (From Fresh Calyx)
A Roselle Juice Recipe that makes the drink as well as the jam (also called Hibiscus tea, Sorrel Juice or Rosella tea)
Ingredients  
1

cup

Roselle

calyces, de-seeded

1

tsp

Sea salt

1

tbsp

Brown sugar
Instructions 
Video
Notes
We hope you enjoy the delicious, super healthy herbal tea! Please let us know if you have any questions, comments, different versions or anything else!
Roselle Juice Variations
Looking for a perfect addition to your brunch with or without alcohol?
Here are some other variations of Roselle Tea from the Food Network.
Thanks for coming to our blog and viewing our roselle recipe. We appreciate your interest.
We'll work on putting up more recipes with herbs, flowers and plants that we grow onto the blog.
Next Recipe: An Easy Thai Cuisine Thai Basil Stir Fry or Pad Krapow.