Enjoy this quick and easy turmeric chicken bone broth!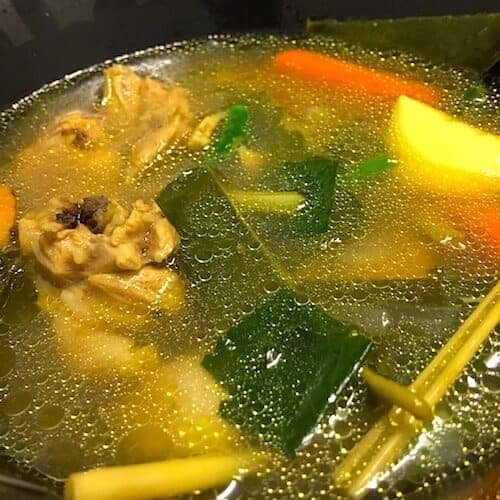 Turmeric Chicken Soup bone broth is a wonderful way to enjoy fresh healing herbs like fresh Turmeric root, Galangal and Lemongrass.
This organic Turmeric soup known in Thai as "ไก่ต้มขมิ้น" can be had for breakfast, lunch or dinner, alongside some white rice. The turmeric broth is a perfect dish to start cooking with turmeric more often.
It doesn't get old, and it's a super easy soup to make.
Probably best for lunch or dinner (although whenever we cook this I end up eating it for breakfast the next morning), this turmeric chicken soup can be made with your choice of meat, poultry or seafood. However, organic chicken on bone works fantastic and it's how we make this recipe nine times out of ten.
Thai Turmeric Chicken Soup Recipe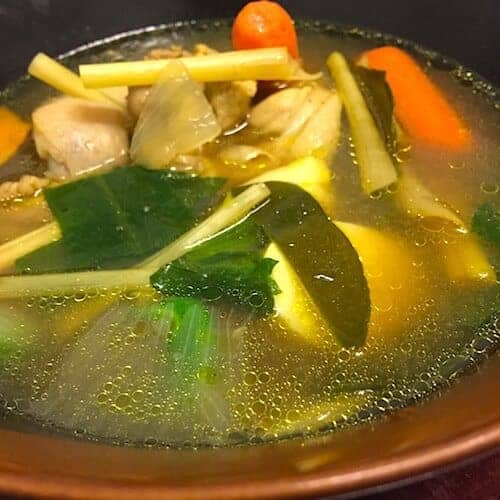 This traditional Thai recipe is named "Gai Tom Khmin" or "Chicken Soup With Turmeric." In Thai language, khmin means Turmeric (most likely, it translates to Curcumin). And in case you'd like to know, here's the Thai spelling of it: ไก่ต้มขมิ้น
So if you happen to go out for dinner to a Thai restaurant, now you can show the waitress this: "ไก่ต้มขมิ้น"
And if she comes from Thailand, she'll know exactly what you're requesting.
Even if it's not on the menu, a true Thai restaurant that has any soup on the menu should be able to put this one together for you.
This turmeric chicken soup recipe has all the essential fresh herbs many Thai recipes often contain:
Young Galangal freshly dug up (dried will work too).
Fresh Turmeric root
Kaffir Lime leaves
Fresh green onion sprigs
Fresh Thai Parsley aka "culantro" (cilantro works if you don't have access to culantro)
Thai chili peppers
The photos for this recipe are not the best because I just snapped some quick shots unexpectedly last night when Ling made this for dinner. She asked me to dig up the roots while she grabbed the herbs and by the time we were done cooking, it was nighttime and so the lighting is not natural.
I'll have to update this main picture with a daytime shot next time we make it because the incandescent lighting doesn't do it justice.
Many Great Turmeric Health Benefits
Not only are you making a gut health promoting organic chicken bone broth, but the soup also has one of the healthiest herbs out there… fresh turmeric root. It's known as a natural anti inflammatory herb, but it has more health properties than that as well.
This Turmeric soup recipe calls for the root, not a powder.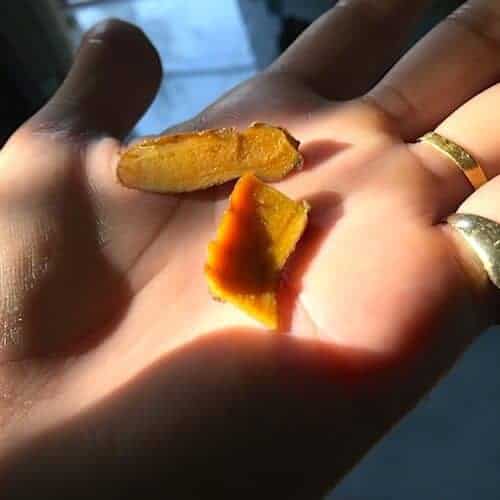 If all you have is powder, you can use that instead. It's just not the same and would change the flavor if you used too much.
If you use the root, you can chew into it and ingest it because the broth cooking time makes the pieces of fresh turmeric soft and tasty.
---
Here's a quick video sharing some wonderful health properties of turmeric, then the Turmeric soup recipe below it.
If this video doesn't make you want to eat turmeric every single day, then I don't know what to tell you. Here are some more turmeric benefits.
Chances are you already know about the greatness of turmeric root or even turmeric powder in any form. If not via food, turmeric capsules are also great. It's one of the few nutritional supplements I'll take.
Now let's get onto the recipe!
Step one of the Turmeric Chicken soup recipe calls for digging the roots and gathering your ingredients.
Step 1. Gather Turmeric Bone Broth Ingredients
Organic Turmeric root, chopped 1/2 inch pieces, 50 grams
Organic Galangal root, preferably Young Galangal, 30 grams (not fully matured, softer when boiled)
Fresh Lemongrass, 3 stalks (chopped into 1 inch pieces)
Small white onion, 1 peeled
Thai parsley/Culantro, 10 pieces (or cilantro if you don't have)
Culantro or Thai Parsley can be substituted by cilantro.
Sea salt, 2 tsp
3 peeled garlic, whole (will dissolve into pieces during the broth cooking)
Green onion sprigs, 9 freshly picked
Green onion.
Oyster sauce, 1 Tbsp (at the end, in bowl you'll eat from, not in the pot)
Kaffir lime leaves, 6 (can be dried if you don't have access to fresh)
Fresh lime juice, 1 lime per serving, squeezed into the bowl you'll eat from (not in the pot)
Thai chili peppers, 2 or 3 for a non-spicy Turmeric Chicken Soup (adds a nice flavor and very slight kick)
200 grams organic chicken on bone, whole chicken cut in small blocks (chicken feet optional)
Step 2. Make Chicken Bone Broth
In a pot with boiling water, start boiling the whole chicken with salt.
The chicken needs to be on the bone. It's best to use a whole organic chicken, and then you can cut into blocks, and give it a wack with a heavy handle or granite pestle to break the bones before placing it in the boiling pot and adding salt.
This is a key to making a fast and easy Turmeric Chicken Soup.
This draws out the bone marrow, gelatin and other goodness from the chicken faster, and the end result is something similar to a slow cooked bone broth even though you only boil for 50 to 60 minutes total.
Step 3. Place Herbs In With The Chicken
Soon after you've placed the raw chicken in the pot with the salt, put in all the herbs too.
So you will add in the chopped Galangal root, Turmeric root, lemongrass, green onion, garlic, white onion, culantro/Thai parsley here.
Then, keep boiling all together with the roots, herbs and chicken until it becomes a bone broth.
Step 4. The Final Additions Before Serving
Once it's ready, squeeze a lime into your serving bowl, drop in a Thai chili pepper and a teaspoon of oyster sauce, then serve your Turmeric Chicken Soup broth into this bowl.
This combines into what becomes a mouth pleasing turmeric soup dinner. It makes your taste buds happy, your liver happy, your gut happy, your brain happy and basically it's a soul pleasing rejuvenating dish!
You can serve it with a side of white rice for a more filling meal. This is the traditional way to eat the Turmeric Chicken soup.
And that's all there is to it!
The pictures I took for this one don't do it justice.
Cooking with turmeric, especially with fresh turmeric root, Ling and I do as often as possible. This turmeric bone broth has become a mainstay in our home because of its great taste and good nutrition. It doesn't get any better than this. It has fresh turmeric root, and organic galangal root on top of that… it's basically a superfood (even though "superfood" is purely a marketing term).
This Turmeric Chicken Soup is a "superdinner" (my new word) and we really hope you enjoy it!
---
An Easy Chicken Turmeric Soup Recipe!
This Chicken Turmeric Soup recipe is very easy to make, as long as you have all the ingredients. It only takes around 35 minutes with prep.
The best part is, you can clean up during the boiling so by the time it's done, everything is clean except the bowls you'll eat out of and the pot you cooked it in.
We hope you enjoy this Turmeric Chicken Soup recipe, and if you happen to cook this yourself, we'd love to know how it went! You can send us a picture or add it in the comments, or tag us on Instagram and let us know how it went!
Printable Recipe Card Below
Turmeric Chicken Soup Recipe Card
Enjoy this quick and easy turmeric chicken bone broth!
Ingredients  
50

grams

Turmeric root

fresh turmeric root chopped in 1 inch pieces

30

grams

Galangal

baby galangal root chopped in 1 inch pieces

4

stalks

Lemon grass

chop into 1 inch pieces

200

grams

Whole organic chicken

chop into thick pieces and smash bones before cooking

3

whole

Garlic cloves

peel first, then smash once with something heavy

1

whole

White onion

peeled

1

tsp

Sea salt

more or less, to taste

9

whole

Green onion

sprigs, chopped into 1 inch pieces

10

stalks

Thai parsley

also called, Culantro (Cilantro is good substitute)

6

whole

Kaffir Lime leaves

preferably fresh, not dried

3

tbsp

Oyster sauce

3

whole

Thai chili peppers

fresh

3

whole

Limes

freshly squeezed before serving
Instructions 
We first dug up the roots and plucked and picked all the herbs and veggies from the garden (except for garlic and the white onion) and washed them. My dog Choco here poses alongside the freshly dug up Galangal root:)

Then we started boiling the water while chopping up the roots and lemon grass. All three lemongrass, turmeric root and galangal root should be chopped into pieces around 1 inch big. (Organic turmeric root pictured)

Cooking begins: Boil water and place in the chicken and salt. Before placing in the chicken, smash it to crack the bones. You can use the back of a heavy knife or a pestle from your mortar and pestle. Then, place all the herbs in soon after.

Boil for 50 minutes to an hour or so. This lets the freshly cracked organic chicken bones to seep out the nutritious goodness into the soup to form a wonderful turmeric bone broth.

When finished cooking, add in the oyster sauce at the end. In a bowl squeeze a whole lime, and drop in a Thai chili pepper. That's the last step. Just serve and enjoy!
Video
Notes
Let us know if you have any questions.
We hope you enjoyed this Turmeric Chicken Soup recipe!
Related Reads from around the web:
Thanks for coming by the blog!
UP NEXT: An easy Thai Shrimp recipe – As easy as it is delicious and quick to cook. A good dinner dish, but not the most filling without rice on the side.