Enjoy the luscious, bright flavors of this Thai "hot and sour" Tom Yum Soup!
Tom Yum Soup is one of the best Thai recipes there is. Thai Cuisine would simply not be the same without it.
If you have ever eaten Thai food before, then chances are you know all about the special taste of the Tom Yum Goong already. This healthy seafood broth soup is low-carb and gluten-free, plus goes great for healthy ways of eating like the "ketogenic" or "Paleo" diets too.
Tom Yum Goong Recipe Backdrop
This is an authentic Tom Yum soup recipe with shrimp, and includes a special shrimp head sauce not often found in other Tom Yum Goong recipes online (also spelled, Tom Yum Kung).
Below are step-by-step image cooking directions for the Tom Yum Goong. 
We hope you enjoy the shrimp head special sauce!
For a while, I always ate the chicken version (tom yum gai) or the less common "moo" (pork).
These days it's only the seafood Tom Yum's that hits the spot, every time!
2 Main Variations Of Tum Yum
Tom Yum Nam Khon is a creamy version (made with coconut milk or evaporated milk).
The other is a clear version called Tom Yum Nam Sai.
I learned about the distinctions of the two different kinds a while back, but when looking around online I discovered the great food blog called Eating Thai Food. Our Tom Yum Recipes are slightly different, but he's got great Thai recipes and explains the difference between these two soups nicely.
When eating out, I will confirm with them how they cook it before ordering. It's hit or miss when eating out. I'd say most places will not make the shrimp head fat sauce. Depending on where I am ordering, I'll do the creamy version or the clear. They both have the potential to be amazing (depends on who's cooking). The creamy Tom Yum soup made with coconut milk helps you get some healthy plant-based fat in your diet.
Shrimp Head Special Sauce
This Tom Yum Shrimp Head Sauce makes this recipe even better. Cooking Tom Yum at home with fresh prawn or shrimp lets you enjoy this authentic version of it. Y o u won't find this shrimp head special sauce in many recipes online. Nor at most Thai restaurants.
The Tom Yum Shrimp Head Sauce is what makes this recipe so special. This sauce makes a big difference for the Tom Yum soup's resulting flavor.
The Tom Yum Step-By-Step Cooking Directions:
1. Gathering The Ingredients
You can easily find a lot of the harder to attain ingredients on Amazon. I've included links below to products on Amazon. You can even find fresh kafir lime leaves, it's so convenient! The fish sauce is used at the very end after all the cooking is complete.
Ingredients list:
Shrimp or Prawns
Aroi-D Coconut Milk
Thai Red Chili Paste
Galangal
Limes
Shallots
Chilis
Fish sauce
Roma tomatoes
Straw mushrooms
Coriander
Culantro
Fresh kaffir lime leaves
At the bottom of this post I have listed out links to bu most of the harder to find ingredients online, as well as to a good mortar and pestle which is important to have when cooking Thai recipes.
Next, heat up some water in a pan and get ready to get your hands a little dirty.
Let us make the shrimp head special sauce. They key is to use fat from inside all shrimp heads. If you don't buy fresh shrimp or prawns, you can't really do this step. Regardless, without the shrimp head sauce, you'll still make a delicious Tom Yum if you follow all the rest of the steps.
2. Shrimp Head Special Sauce
Pull off the meaty bodies ( you'll use these in just a minute ) and get all the shrimp head fat into a strainer, like so. Get as much as you can into a bowl underneath the strainer
It comes off pretty easily.
The trick is to smash it through with a spoon.
You'll want to detach the meaty bodies, set those aside, then use the shrimp head left over to make this.
It should look something like this as you take out the shrimp heads and squeeze their fat through the strainer into the bowl:
This is the hardest part.
After this, you mix in the Thai Chili Paste.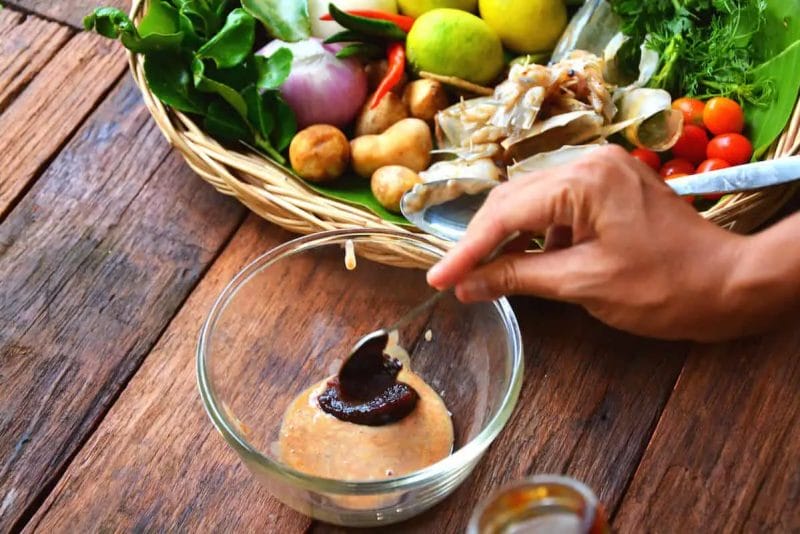 When you're cooking Thai food, you need these things, so although you can get away without using Thai chili paste, it's an integral part. The trick is to get all natural ones, as just as with chicken bouillon, there are ones out there without the artificial ingredients and MSG.
Here's the most often-used one for Tom Yum. You can easily find and buy this Maepranom Thai Brand Red Thai Chili Paste online and likely your asian food store if you have one locally.
This chili paste is the most popular one for this recipe. Used by restaurants, outdoor food stands, and its also used in the West. It's got no MSG too.
Next, add coconut milk.
You can also use canned evaporated milk, but if you're shooting for optimal health, which is something I always am, I try to stick to the healthiest ingredients I can.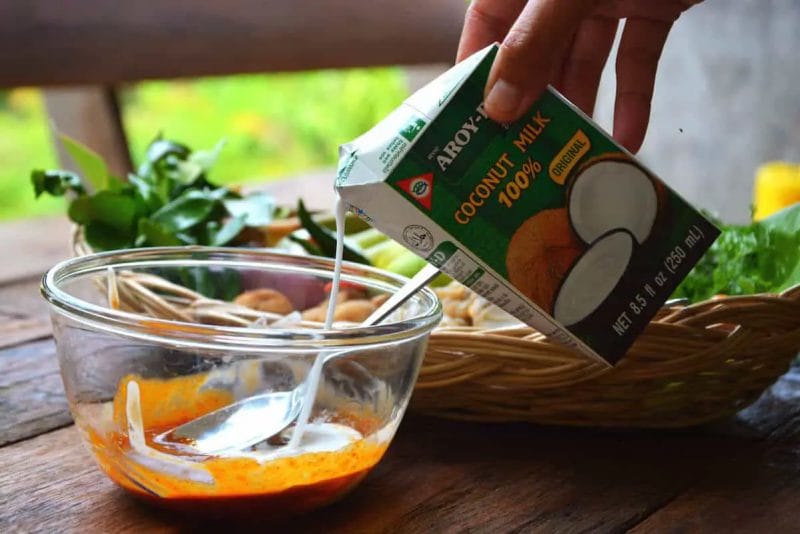 Aroy-D coconut milk is great for cooking all Thai food that calls for coconut milk. It's a perfect complement to Thai dishes and to your morning coffee too! If you're not a fan of coconut or MCT oil, yet you still want some MCT health benefits, give some coconut milk a try you might enjoy it or its effects.
On a random note, sometimes I will use coconut milk and organic cacao powder in my coffee instead of grass-fed butter when I'm shooting for a fat-filled morning coffee.
You should be able to find Aroy-D at your local grocery store or Asian market.
The end product of the special shrimp head sauce should look something like this:
3. Smash, Slice & Chop
Next, comes the veggie chopping. Lemongrass, galangal, shallots, and coriander. We started with the lemongrass, and smashed the stalks to bring out the flavor before slicing them into 1 inch pieces.
I find lemongrass most enjoyable when cut into semi-large pieces. I italicize "semi-large" because often you'll find lemongrass that is thinly sliced. If it's not thin enough, it is hard to eat. This can be annoying if you're not used to it or don't want to chew lemongrass.
Lemongrass gives the tom yum soup such an amazing flavor. I'd recommend doing 1-inch pieces of stalk, or to chop thinly and then just consume it with the soup. It's a very fibrous plant.
Then the galangal.
Galangal looks and tastes similar to ginger, but it is very different and cannot be substituted for with ginger.
Galangal should be sliced thinly, in order to maximize the flavor drawn out. All tom yum recipes you'll see have this glorious root within them. If you cannot attain fresh galangal, dried will work as well.
Unlike the lemongrass which you can smash or wack against a hard surface to start bringing out its flavors, galangal requires slicing thin and cooking.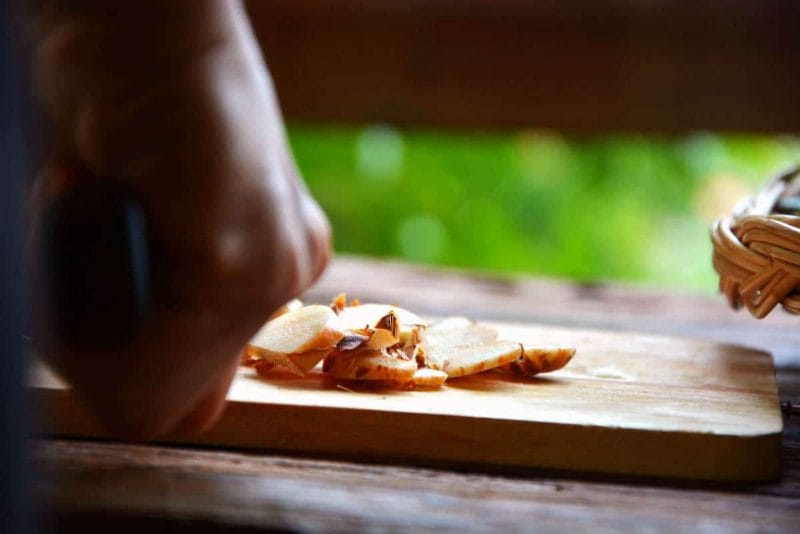 Then slice the shallots like so.
And lastly, the coriander.
The coriander you won't use until the very end. When you make the shrimp broth (step 3) you'll use the coriander roots. So make sure to not throw those out.
4. Tom Yum Soup Broth Directions
Here is where you'll use the coriander roots.
Now that you took out the shrimp head fat and made a "special tom yum sauce" with it, you'll use everything left over for the shrimp broth.
the empty shells left behind
the shrimp itself
the pieces of head leftover inside this pot of hot water
Boil a hot pot of water and use these in order to create your hearty tom yum shrimp broth.
They all go in your heating pot of water, like so:
This is why you don't throw these away after emptying them. Not every tom yum soup recipe will have this step either. But an authentic tom yum should.
Here you can see the coriander roots used:
Cook the shrimp all the way through. They should turn white and meaty.
This will be the bulk of the cooking process.
Then, strain.
Strain your prawn or shrimp into a big bowl.
After you strain, you can toss the shells.
Then put all that strained tom yum broth back into the pot:
5. Using the shrimp broth you just made
We'll use the chopped vegetables now.
Put the shallots, galangal, lemongrass and coriander roots into the pot full of the shrimp broth you just made.
It should look like this:
Still waiting to be used are the following:
kefir lime leaf
grape tomatoes
mushrooms
And a bowl with the vibrant, red special shrimp head sauce with the freshly cooked shrimp now placed inside its bowl…
Next, put ALL into the pot EXCEPT for the freshly chopped coriander and kaffir lime leaves.
The mushrooms take some time to cook.
You can let them cook for a few minutes before proceeding to add the kaffir lime leaves.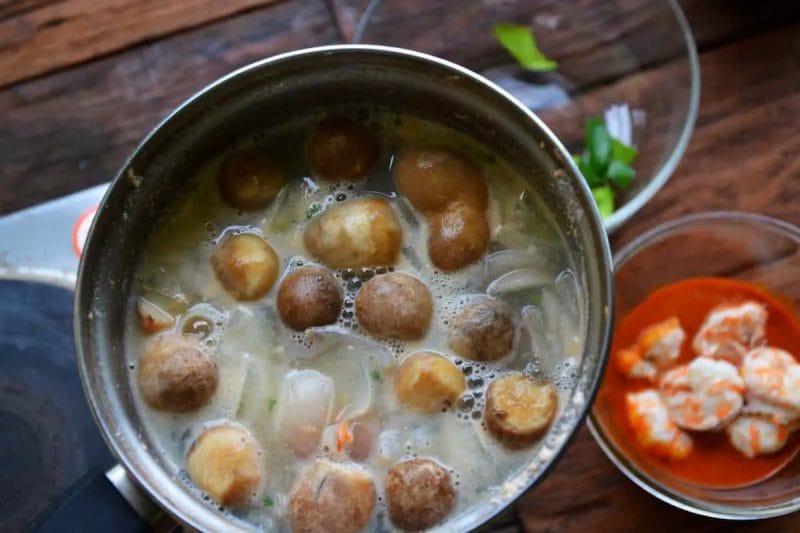 Next,
Put the shrimp head special sauce and the cooked shrimp inside the pot:
Then,
The kaffir lime leaves:
Almost done at this point, the aroma should be blanketing your kitchen and making anyone in it salivate…
Next, smash your chili peppers and put them in a bowl with the chopped cilantro:
In this same bowl,
..you need to add a bit of fish sauce and freshly squeezed lime juice:
No Tom Yum soup recipe is complete without freshly squeezed lime!
And that's it! We're done with the tom yum at this point.
The reason you don't want to put the lime juice, fish sauce, and peppers into the hot cooking pot of Tom Yum Goong is that it'll evaporate the flavors. It's best to have those as additions.
To serve,
Put the tom yum shrimp soup broth in the bowl with the cilantro and lime juice.
That's how it's served and eaten:
The Finished Tom Yum Soup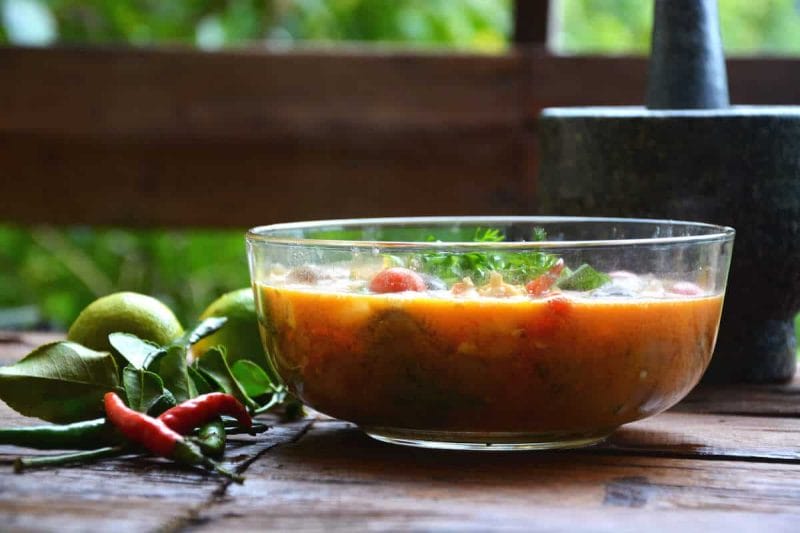 It seems pretty involved, but really, it's an easy dish to make that has the power to impress anyone you cook it for. It's gluten-free, and you can make it more lectin-free by stripping the tomatoes of their skin and deseeding them. As well as possibly leaving out the smashed chili peppers after cooking with them.
One more shot for posterity:
Tom Yum Shrimp Soup (Tom Yum Goong)
Enjoy the luscious, bright flavors of this Thai "hot and sour" Tom Yum Soup!
Ingredients  
300

g

Shrimp

fresh shrimp or prawns

250

mL

Coconut milk

Aroy-D brand or any

1

Tbsp

Red chili paste

Mae Pranom brand or similar paste

2

whole

Galangal root

heads, no substitutes

4

whole

Lemongrass

fresh stalks, will be chopped

2

Tbsp

Lime juice

fresh squeezed

2

whole

Shallots

chopped

5

whole

Small chili peppers

Thai chili peppers

3

Tbsp

Fish sauce

100

g

Tomato

we use "Roma" tomatoes, can sub with others

100

g

Mushroom

"Straw mushrooms", most are OK to sub with

3

whole

Coriander

stalks, to be chopped

3

whole

Culantro

stalks

100

g

Kaffir Lime leaves
Instructions 
Please go over the blog post above to see the step-by-step images for this Tom Yum recipe. We tried to be as descriptive as possible with the images, so please just comment below and we'll answer any questions you may have. Thank you!
Notes
We hope you enjoyed our shrimp Tom Yum recipe and if you make it or want to share this post even better. For any questions or compliments please comment below.
Thanks for stopping by and checking out our Tom Yum Soup recipe.
Next Recipe: A Spicy, Sweet & Easy Thai Shrimp Recipe